Intern – Sydney R. Lawson

She's young, beautiful and ridiculously talented. 24-year-old Costa Rican singer, Debi Nova, is not your average, eye candy pop star. On top of being a singer and songwriter, Debi plays several instruments including piano, guitar and bass. She can even shake her hips like Shakira.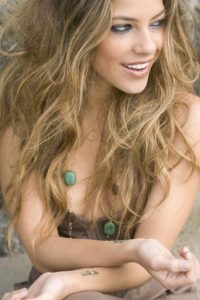 A fusion of English and Spanish, her music is versatile and very influential. She writes and sings in both languages effortlessly and refers to her music as "Spanglish" and "Tropical Soul." Similar to other Latin artists such as Selena and Christina Aguilera, Debi hopes her music and unity of different tongues will knock down cultural barriers.
Debi is a 6-time Grammy nominee and performed with Ricky Martin throughout Latin America. She also worked with jazz artist Boney James, rapper Q-Tip, Brazilian musician Sergio Mendes, Will.i.am of the Black Eyed Peas and Sean Paul.
Her new album, Luna Nueva, drops this March. A project that took nearly ten years to create, Luna Nueva is a mix of Latin, pop and hip-hop. Her released, hit single "Drummer Boy" is a funky, upbeat track that is already tearing up nightclubs around the world. Check out Debi's video at http://www.youtube.com/watch?v=-pumthUVlio&feature=related
Debi Nova is an artist to keep an eye on. Despite being gorgeous and a musical genius, she exudes modesty and has a genuine spirit about her. She is a breathe of fresh air. Debi now lives in Los Angeles and is going on tour this summer. She is sure to hit up her native Costa Rica.