Featured Columnist – Retirement & Living
Kat Sunlove
When my husband Layne and I first looked at a detailed outline of the documents required by Costa Rican Immigration in order to apply for residency, we were a bit overwhelmed. It sounded so complicated, and in many ways it is. Birth certificates, marriage certificates, in my case a legal change-of-name court order, police clearance letters, copies of passports in multiple copies, then notarized or certified or authenticated, and in a few cases, all three! It literally made our heads swim. When you think it through, however, you can see that this is merely a "chain of command" authorization process: the signature of a lower official must be certified by a higher official, whose own signature is certified by the one above him or her. And finally, the Costa Rican consulate for each state, or the primary consulate office in Washington, D.C., authenticates the whole shebang.
As we approached the project — laying out a plan to obtain each item, checking them off as they were acquired and properly stamped, making copies as needed, organizing the assortment in a file — our course of action began to feel more manageable. So following our decision to go after our documents in person, I went to Texas to get my birth record certified and authenticated, as described in my last report. To officially certify his birth record while visiting family in Oregon, Layne drove to the state capital of Salem to submit a copy of his birth certificate to the Oregon Secretary of State. In one of our nightly phone calls while I was still in Texas, he expressed surprise at how fragile the document he had received seemed to him.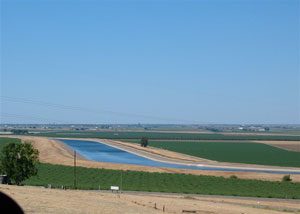 "It's just a note on letterhead stapled to the birth certificate," he said, "and the clerk warned me not to remove the staple."  The fact that it was only stapled together made us worry that it might be unacceptable to Costa Rican officials. After all, would that not be susceptible to fraud? We were reassured, however, when my own certified birth record from the Texas Secretary of State came through looking about the same — just a letter stating that the county official who had signed it was authorized to do so, stapled to an original birth certificate. We concluded that this was just how it was done, but, as you can imagine, we were extremely careful when copying those documents as to not to disturb the staples.
After we both returned to California from our travels, we were happy to find in the mailbox our marriage certificate, properly stamped and embossed by the Nevada Secretary of State, as well as my certified birth record, authenticated by the Costa Rican consulate where I had dropped it off in Houston. The only remaining document was our police clearance letter, which we now understood should be from a statewide agency, such as the California Department of Justice.
After a few telephone calls to be sure we were clear on this last step, we headed back to the El Dorado County Sheriff's Office to have fingerprints made for the police clearance. In our research, we had learned that local authorities could take the prints and then convey them electronically to the state agency for authentication. This transmittal should take about 24 hours, the helpful clerk at the Department of Justice told me over the phone. Since we were in something of a rush to get everything completed, he graciously offered to watch for our prints to come through and to expedite the clearance letter, a refreshing change from typical bureaucratic indifference.
At the Sheriff's office, as we pressed our fingertips to the glass of the scanning machine, we explained to the technician why we needed the prints. Like many people we meet and share our plans with, the deputy was curious about and somewhat envious of our Costa Rican adventure.  When Layne described our life in Atenas, the low cost of our rented home with views of the Pacific and the wonderful ocean breeze, her face softened into that faraway look of unrequited tropical dreams. Perhaps one day she, too, will make that longed-for trip to her own place in the sun.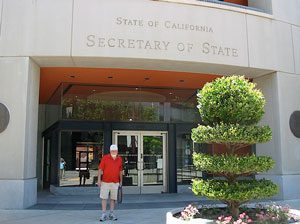 Fingerprints done, we hurried in to the Justice Department in Sacramento the next day to pick up the letter and deliver it and the other relevant California documents to the Secretary of State's office for certification. Finding parking spots took longer than obtaining the documents and suddenly, we realized with amazement, that all of our paperwork was complete! All that remained was authentication of the various documents by the Costa Rican consulate in Los Angeles, which has jurisdiction over California, Oregon and Nevada, the states of origin for our records.
The following morning we were "on the road again," as Willie Nelson would sing, driving south in order to be at the consulate bright and early to have all this paperwork approved. After a celebratory dinner of Chinese food and decadent Bombay Sapphire martinis that night, we were at the consulate when it opened Monday morning. We paid the $200 in fees ($40 per document) to the clerk and were told to wait "a few minutes." Time passed. We read the entire LA Times. Then we began to worry. What could be wrong? Was something out of order, incomplete or suspicious-looking? Finally, after almost an hour, the young woman returned, apologizing for the delay, explaining that only one consul was in the office so it had taken longer than usual.
We had done it! Everything was stamped, embossed, signed by the Costa Rican official and ready to FedEx to our attorney, which we did as soon as we returned home. We were amazed to learn that FedEx offers no insurance for parcels and, despite the value to us given all we had gone through to obtain these precious documents, we could only declare a value of $1.00, the price of the paper itself. Plus, the shipping cost was almost $100 to send it as quickly as possible to Costa Rica. We were on pins and needles worrying until we got word from our attorney that she had received it all and it looked complete.
The next steps were up to the attorney: Hand-deliver the documents to Immigration and follow up on the proper schedule to move our application along the torturous path to legal residency. But the drama was far from over, as you will learn when this chronicle continues in my next column.