This month brings us the photographic work of the Pucci family, Juan Jose and his two sons, Guancarlos and Sergio. The photographic work of the Pucci family of artists has been immortalized throughout seven books, where they have published their images individually and collectively. Some of their recent projects include the outstanding book Costa Rica Aerial and Magic Forests.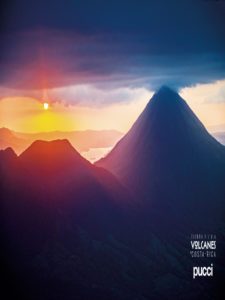 The Pucci family are well-known Costa Rican artists whose use of color and impressive images can now be found at the country's main bookstores with their two new projects.  The launch of the book Tierra Viva – Volcanes de Costa Rica (Live Earth – Volcanoes of Costa Rica) and the third volume of Árboles Mágicos (Magical Trees).
Tierra Viva – Volcanos de Costa Rica is a compilation of 200 unpublished photographs of 20 volcanoes found in Costa Rica.  Throughout its 230 pages, readers will find terrestrial and aerial shots of 20 volcanoes that range from the most active and well-known, to some that may be a discovery for the reader.  Such as Cacho Negro (Braulio Carrillo National Park), the Congo (Poás Volcano National Park), Caldera de Bosque Alegre (Alajuela) and Cerro Tortuguero (Tortuguero National Park), among others.
Tierra Viva – Volcanes de Costa Rica is a work that looks at the meaning of the word "colossus", with information in English and Spanish. All this material also contains a scientific endorsement by the Volcanological and Seismological Observatory of Costa Rica, OVSICORI.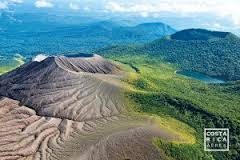 "One of the first volcanoes we climbed together was the Rincón de la Vieja about 30 years ago, and since then we have had a special admiration for them. Unlike other projects we have undertaken, this book is different because of its visual richness, conceptual structure, and the manner in which images are captured. It is a book of photos with very concrete texts, poetic with interesting data, and emphasis on the origin of the name of each one. It is structured from north to south, passing through all the mountain ranges of the country" said Sergio Pucci.
The third edition of Árboles Mágicos comes loaded with 100 unpublished photos of more than 20 different species of flowering trees found in different parts of the country, Some trees may reach astonishing heights. The artists delve into the root of the name of each species, the traditions that revolve around them, and their uses.  Funds earned from sales are donated to education and reforestation programs led by the Magical Trees Foundation.
The beauty of the images is complemented in both works with texts by Jaime Gamboa.   Both hard-copy books presented by this unique family of artists were printed on paper from responsible sources certified by the Forest Stewardship Council (FSC).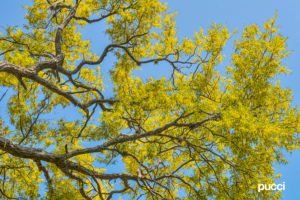 The Magical Trees Foundation was created in 2010, and is a non-profit organization in which a part of its funding is generated through sales. In this way, all books, calendars, and other products finance the special areas of concern.  Such as reforestation in biological corridors where more than 20,000 trees of native species have been planted.  And an educational module that is brought to schools and universities, and aims to be a bridge of reconnection between people and nature.