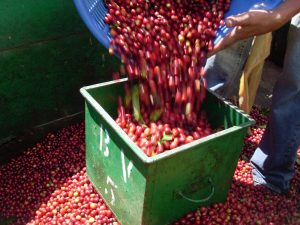 Costa Rica News – Coffee exports from nine Latin American countries, excluding Brazil, increased 11.9% between October and January, the first installment of the 2012-2013 harvest, compared with the same period last year, said the National Coffee Association of Guatemala (ANACAFE ).
The figure corresponds to sales of Colombia, Costa Rica, El Salvador, Guatemala, Honduras, Mexico, Nicaragua, Peru and Dominican Republic, said the report. However, in the case of Costa Rica and El Salvador, the report indicates a decrease.
TIP: Get our latest content by joining our newsletter. Don't miss out on news that matter in Costa Rica. Click here.
According to the press office of the agency, exports totaled 8,208,070 bags of 60 kilos in those four months, up from 7,334,349 bags of the same months of last season.
A breakdown of the figures, the Dominican Republic reported the highest growth in exports with 158.34% and 137.5% with Nicaragua.
Peru's sales grew 26.71%, followed by Honduras (25.14%), Mexico (14.77%), Guatemala (8.08%) and Colombia (2.5%).
The only two countries with low are El Salvador, with a fall of -4.37%, and Costa Rica (-2.57%), according to the report said.
The total of the previous harvest, October, 2011 to September, 2012, was 28,103,435 bags of 60 kilos.
The fact that coffee sales in the region have tended to rise in the first quarter, despite a plague of blight affecting the coffee plantations in Central America, is because there was "a drag" or balance of product from the previous harvest.
However, ANACAFE estimated the impact of the rust plague, which affects 65% of the 933,000 hectares cultivated in Central America, will begin to be felt in the coming months and will clearly at the end of the harvest in September.
ANACAFE record grain exports from nine Latin American countries, except Brazil, the world's leading producer that delivers its figures.
The Costa Rica News (TCRN)
San Jose Costa Rica