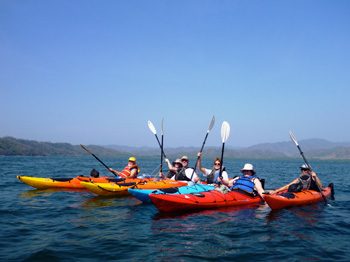 Kat Sunlove, TheCostaRicaNews.com
When you retire to Costa Rica, you may find yourself overwhelmed by the variety of outdoor activities available to you. Whether it's bird-watching in a verdant rain forest, strolling over hanging bridges above the jungle canopy, wandering around the barren landscape of a grumbling volcano or hitting little white balls across a lush ocean-view golf course, the options for outdoor pleasure are never far away.
As retirees living in Costa Rica, my husband Layne and I have sampled a lot of what this gorgeous country has to offer but recently we ventured into new territory, literally and figuratively, when we took off on a sea kayaking adventure at Bahia Rica, a sport fishing and kayaking lodge in the tiny town of Paquera on the Gulf side of the Nicoya Peninsula. Run by a charming and energetic young Norwegian couple, Vigdis Vatshaug and her husband Thomas Jones, Bahia Rica beckons dedicated sport fishermen with the exhilarating challenge of hooking a big Marlin or Roosterfish, even as it lures the nature lover with the tranquility of palm trees, dreamy hammocks and isolated beaches.
But for Layne and me, the attraction of Bahia Rica was the opportunity to try out sea kayaking. Our only other experience with kayaking was less than idyllic — wobbling along atop a poorly designed kayak on a cold, yet beautiful, mountain lake with our experienced kayaker friends, sisters Sue and Christine. So when those two friends decided to come down for a visit to check out Costa Rica for their retirement, we knew we needed to entice them with some good kayaking. They were hoping to put their smooth water paddling expertise to the test plying their skills on more open waters. Friends here in Atenas highly recommended Bahia Rica as affordable and fun, so with just a few emails to Vigdis, we made a plan to spend two nights as the first stop of Sue and Christine's two-week trip.
Instead of a rental car and traffic woes, the four of us opted for the comfortable and inexpensive two-hour bus ride to Puntarenas, a busy port stretching along a narrow peninsula into the Gulf of Nicoya, where the ferry departs. The ferryboat ride was a pleasant hour passage as sea gulls rode beside us on the ferry's wind wake and we sipped Costa Rican beer, laughing and getting in the holiday spirit. Soon enough we pulled into the small harbor at Paquera where we were met by Vigdis, a radiant sun-tanned beauty, holding a Bahia Rica sign, her vibrant smile and sun-bleached hair presenting a picture-postcard image for arriving guests.
Bahia Rica is only a short drive from the Paquera ferry terminal, but the hillside retreat seems a world away from civilization, with howler monkeys dangling from mango trees, exotic birds fluttering through foliage and a few modest Tico houses in the small barrio nearby. Although in business for only a few years, Vigdis and Thomas are living their dream of operating a fishing and kayaking company in the heart of the tropics. At the top of the property is a unique two-story pole-built lodge rising up into a tangle of trees, with long verandas on each level and three large sleeping rooms, well priced for a retiree's budget. With a birds-eye view of the terrain, the lodge brings guests into close contact with wildlife and offers vistas of the palm-studded islands scattered throughout the Gulf.
Colorful birds and butterflies flitted through the trees outside the second floor where we stayed, and howler monkeys moaned their distinctive eerie calls from only yards away. The upstairs bath was an open-air space, offering unobstructed views to the curious monkeys in nearby branches of immodest humans showering au natural. Who knew mooning the monkeys could be such fun?
A cinderblock path down the steep hillside leads to Vigdis and Thomas' rustic beachfront bungalow, set in a clearing full of mango and cashew trees populated by more monkeys and adorned with hammocks strung just steps from the shoreline. For those who don't wish to experience the vertigo-inducing hike down the hill, Vigdis and Thomas are happy to transport guests in their SUV to the cottage for meals or for relaxing by the beach.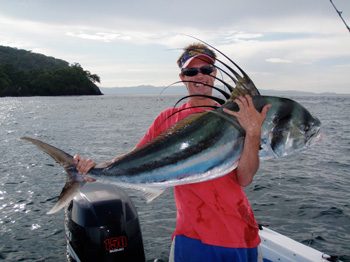 The complimentary breakfasts were delicious. We opted for Norwegian style: Vigdis' homemade bread, sliced meats, cheese, tomato and cucumber. A light but satisfying way to start the day. Fortified by breakfast that first morning, we headed down to the shore where Vigdis was preparing our sturdy sit-inside kayaks and life vests.
Now you might think that paddling a kayak is too strenuous for us retirement age folks, but you'd be wrong. After Vigdis' safety briefing, demonstrating the most effective paddling techniques and the all-important tips on getting in and out of the bobbing crafts, we headed out into the Gulf. With little exertion, we glided smoothly over the swells with calm morning winds brushing our faces as we made our way to nearby Jesusita Island. Visual delights were all around us: hectic schools of black tuna leaping out of the blue waters to feed on sardines along the surface, sea gulls and black-and-white frigate birds soaring above, the rocky shoreline punctuated by swaying palms. We circled around to the protected side of the island and stopped for snacks at a secluded beach inhabited only by a family of Ticos. There, a few of us enjoyed a leisurely swim in the wonderfully warm surf until it was time to return reluctantly to Bahia Rica.
But the excitement was not over yet. Paddling back, we were entertained by dozens of the large frigate birds, with their scimitar wings and forked tails, diving headlong close to our kayaks, grabbing sardines away from the tuna in a mass feeding frenzy. What an amazing sight and a fitting finish to our sea-kayaking excursion as we coasted into shore at Bahia Rica.
That afternoon lounging on the veranda, Sue and Christine commented that knowing active outdoor sports like sea kayaking are so easily available and affordable here makes Costa Rica an attractive option for their retirement. With all the other great outdoor pastimes here, no doubt many potential retirees share that perspective. Layne and I certainly do!