Kat Sunlove, TheCostaRicaNews.com
After a year of effort and a few thousand dollars, Layne and I have finally accomplished our goal of becoming legal residents here in Costa Rica. On a recent Friday we joined our attorney and several other Gringos for a trip to Migracion to have photos taken for our cedulas, the identification card that allows us to live in Costa Rica without the restrictions of a tourist visa.
It's been a remarkable, educational journey, from the first trip to the San Jose police station for fingerprinting, through travels around the United States last summer, collecting the documents we needed and getting them certified, notarized or authenticated, ending with this last excursion into the bureaucratic maze of the Costa Rican immigration system. Although some people have filed for and achieved residency on their own, Layne and I are grateful to our attorney for her patience, persistence and precise directions. Without her, the whole process would have seemed overwhelming to us, given our limited Spanish skills and the fact that the residency laws were changing just as we started down the path to become pensionados here.
In fact, the new law had gone into effect March 1, 2010, and regulations for implementation were not yet drafted when we commenced the process last May. News reports and information from Migracion suggested that under the revised rules applicants were required to join Costarricense de Seguro Social or CAJA, the national health insurance program, as part of the application process. So Layne and I signed up in May, only to learn a few months later that Migracion had reversed themselves: now applicants only had to join after residency was approved. That little confusion cost us a couple hundred dollars since once we were enrolled we were reluctant to cancel for fear of risking our now-active application. Of course, living here where Medicare does not cover us meant that having such emergency medical insurance was smart — or might have been had we not spent the summer months in the U.S. As it turned out, our $87 per month for those three months was essentially wasted money.
Such surprises have continued even to the last few steps. For instance, we had been under the impression that our cedulas would be mailed to us here in Atenas. But after having our photographs taken, we were told that because we were over 65 years of age, our cedulas would be prepared there at the immigration offices while we waited.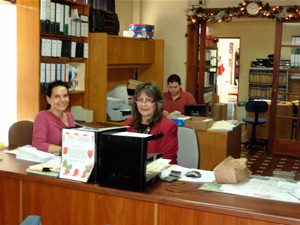 In the meantime, we had discovered that once we had our cedulas, we could save money on our CAJA fees through membership in Association of Residents of Costa Rica (ARCR), an expat support organization. Their group plan offers CAJA coverage at about half of what we were paying as individuals. So on the day we received our cedulas, we taxied into San Jose to the ARCR offices and found that by sheer luck, we had arrived just in time to sign up for May. Even that was complicated, however, requiring that we pay for a courier to hand-carry our ARCR application into the San Jose office of CAJA; once we received the authorization in the mail from ARCR, we were to take that to our local CAJA clinic to cancel our individual membership. But by then it would be into the month of May so there was a chance that the local CAJA might require us to pay them for May as well, before they would cancel.
Another unforeseen tidbit was learning that in two years, when we renew our cedulas, we must prove to Migracion that we have converted $1000 USD — the guaranteed income required for pensionado status — into colones each month. Never mind that Layne's monthly Social Security check of more than $1000 is already deposited directly into an account at Banco Nacional. Not good enough. Indeed, even our ATM receipts, showing withdrawals in colones of more than $1000, would not suffice. Some friends transfer funds from a U.S. account into a colones account here in Costa Rica, while others have a dollar account here and transfer to a "linked" colones account. Since our original Banco Nacional account had been set up as a dollar account (we are not sure why… add it to the list of Pura Vida mysteries!) we decided to open a linked account, trusting we'd be able to make the monthly transfer online.
So on Monday with ARCR documentation in hand, we headed first to CAJA to cancel our individual account and get transferred to ARCR, which all went remarkably well. No problems, no request for a May payment and new CAJA cards issued on the spot. Count it as a small miracle. Next we went to Banco Nacional, hoping our luck would hold and we'd get an English-speaking representative. The banks here use a numbering system to keep track of whose turn it is since there is often a crowd awaiting service, so we pulled off the number 63 ticket and noted they were then serving number 54. It could be a long wait but that's why we brought books. As I've said here before, patience, patience, patience.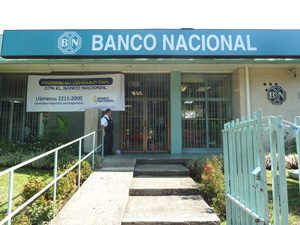 From 11:00 a.m. until 1:00 p.m., we read our books, occasionally checking to see which number was up. We kept an eye on the two account clerks, as we knew that one of them, Josefina, spoke some English. But at 12:30, Josefina began counting and bundling cash, making entries in the computer and then left for lunch. When our turn came, it was Josefina's replacement that we faced. I asked if she spoke English, she smiled and said no. Uh-oh. Indeed, it soon became clear that she was a bit lost, despite the printed Spanish instructions we had from our attorney. She repeatedly turned to her colleague in the next cubicle to ask questions and when she made entries in her computer, she would pause and frown in confusion. When she was finally done, she told us that we could access the new account the next day. So with our signed paperwork and a receipt for the transferred funds in hand, we left hopeful that all was in order.
Wrong again. When we tried to access the account the following morning, there was no sign of the $1000 online or at the ATM; only our dollar account showed up, now considerably smaller. So it was back to the bank, this time accompanied by our sweet friend Carmen as interpreter. After another wait, we got Josefina and she corrected several errors, linking the accounts and getting me on as an authorized user. But we are still not finished. We must now take a letter from our landlord verifying our address and how long we've lived here. So off we go with Carmen once again tomorrow to try and straighten all this out before our departure next week for the U.S.
Wish us luck, light a candle, cast a spell.