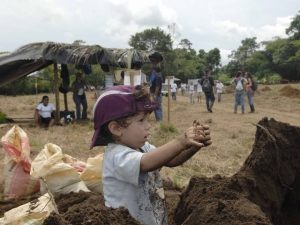 By CATERINA L. ELIZONDO
An initiative conceived by EARTH University graduates in different countries brought together thousands of volunteers around the world for the goal of planting one million trees.
More than 2,000 people in Costa Rica joined the campaign, "Sowing the Future" in various areas to plant 150,000 trees of native species in the country, such as almonds, espavel, mahogany or the Guanacaste tree.
EARTH University (School of Agriculture of the Humid Tropical Region) led this global call to which were added 31 countries-such as Peru, Lebanon and France, as part of the 20th anniversary of that institution, which provides agricultural sciences .
Volunteers, business representatives and families joined students from different countries currently studying at the Earth to help regenerate forests in Costa Rica.
The President, Laura Chinchilla, also participated in this initiative to plant a tree.
Received by several volunteers, Chinchilla said that this was a symbolic gesture that highlighted the country's commitment to environmental sustainability.
"We are setting an example to the world and share it with thousands of citizens across the Earth in celebrating this day," said the president.
Translation and editing by TCRN Staff