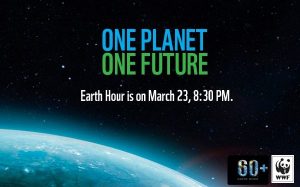 This March 23, 8:30 to 9:30 pm celebrates Earth Hour. This global initiative, created by the World Wildlife Fund (WWF) aims to raise public awareness about the need for action on climate change.
Earth Hour broke all records in 2012, uniting hundreds of millions of people from around the world to turn off their lights for one hour as a symbolic action for the planet.
TIP: Get our latest content by joining our newsletter. Don't miss out on news that matter in Costa Rica. Click here.
This year, Earth Hour will be supported by public figures such as: Warner Rojas, Esteban Ramirez, the half dozen, Bernal Villegas, Leonora Jimenez, Doris Goldgewicht, Johanna Ortiz, among others, as ambassadors. The challenges will be to communicate through social networks and other media.
That day activities will be held in different parts of the country, for those unable to attend they can join the campaign by turning off the lights in your home or office for an hour, as symbolism of the power of change is in the hands of all people and can take on the challenge of making a change for the planet, through various actions.
Costa Rica joins the global community to celebrate Earth Hour through Sustainability Consultants (CES), a company that designs and manages sustainability processes from strategic planning, management environmental, social responsibility and financial aspects for the improvement and transformation of enterprises.
CES has taken up the challenge with the support of the National Biodiversity Institute (INBio) and other organizations, to carry out the initiative in the country, and organizers of Earth Hour in Costa Rica.
The Costa Rica News (TCRN)
San Jose Costa Rica