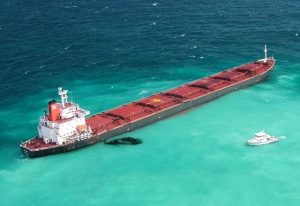 The Venezuelan boat Antilles 1 which has been grounded in the port of Limon since February 21, will return to Venezuela.
Crew member Jesus Batista, said that the vessel will not be sunk as previously stated and but rather will return to Venezuela.
TIP: Get our latest content by joining our newsletter. Don't miss out on news that matter in Costa Rica. Click here.
According to Batista the ship will be immediately towed to Venezuela, and confirmed that the boat already had all the fuel removed.
Allan Hidalgo, President of the Board of Port Administration and Economic Development of the Atlantic (JAPDEVA) indicated that the treatment facility tried to remove the boat four times without success, and they spent approximately $10,000, and would attempt to charge the company responsible for the problem.
The vessel arrived in Limon last December 12 from the Lesser Antilles with a sugar cargo and seven crew.
The Costa Rica News (TCRN)
San Jose Costa Rica