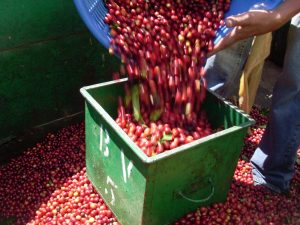 Coffee imports for domestic consumption of coffee show a reduction of 74% between 2012 and the previous year, which means that Costa Ricans stopped buying abroad and represents around 153,885 bags each weighing 46 kg., said the report fom the Coffee Institute of Costa Rica (ICAFE).
As of March 20, 2013, coffee imports reached 1,800 bags at 46 kg, reflecting the downward trend that is continuing.
The deputy director of ICAFE, Edgar Rojas, said that this behavior is because the roasters are acquiring the qualities they need in the local market.
Most imports were made in Central America and Mexico, but now the outlook is uncertain because the rust fungus, which also affected Costa Rican plantations.
Imported coffee currently has a tariff of 15%, so buying the domestic product also is a pricing issue. Ffour years ago there were periods when the roasters purchase cost was lower for imports, but this has been reversed.
Another factor is the marketing campaign developed by ICAFE for the Ticos consume local coffee, so some products have already begun to bear a stamp that makes the difference between whether the basis of grain is one hundred percent Costa Rican. Institute data indicate that the percentage of coffee beans production for the domestic consumer has remained close to 15%.
A recent report by the Department of Agriculture of the United States reveals that Colombia and Guatemala increased its imports of coffee in the past year compared to the previous, unlike Honduras and Mexico, which rather reduced purchases abroad, as to Costa Rica.
The Costa Rica News (TCRN)
San Jose Costa Rica