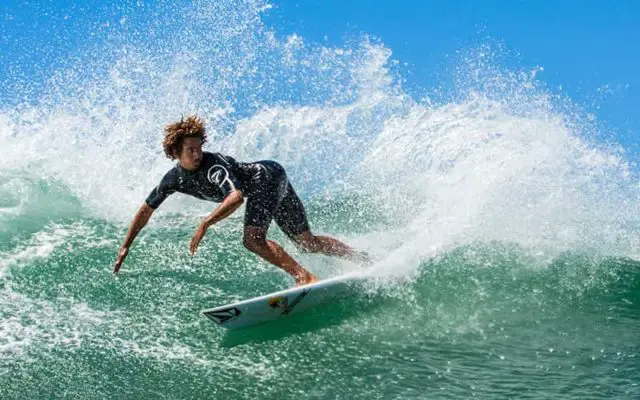 Costa Rica offers dozens of beaches with strong currents on the shores of both the Pacific Ocean and the Caribbean Sea. Favored by its more than 1,400 kilometers of coasts, it is rapidly gaining a reputation as a world surfing destination. The national team won the last World Specialty Championship, which was held at Jaco Beach.
The most experienced surfers usually go for the giant waves that the sea presents in Puerto Viejo also known as Salsa Brava and Cacles.
While there are dozens of beaches in the country that provide tubular waves and warm breezes, it is also emphasized precaution because of the currents that can be deadly for swimmers and surfers. The rainy season brings logs and debris that is washed closed to the shore also calls for taking the necessary precaution.
The Caribbean Coast:
Playa Cocles.
The beautiful golden sands and sea island make it the ideal site for those who are starting in this water sport. It also has good quality restaurants in the surroundings.
Puerto Viejo.
It offers the kind of wave known as Salsa Brava that is the largest and most powerful in all of Costa Rica. Therefore it is recommended only for experts.
Northeast area (Guanacaste):
Playa Naranjo (Santa Rosa National Park).
It is a lovely area within the protected area, suitable for camping and observing the local fauna. It contains the famous Witch Rock, an icon for surfers.
Playa Potrero Grande.
Isolated and difficult to access, this coast better known as Punta Ollies is well worth it, as it has unmatched characteristics. So much so that its waves were recognized internationally. It also offers a wonderful spectacle in terms of biodiversity.
The Nicoya Peninsula:
Playa Grande.
With various kilometers in length, this is the nesting site par excellence of the leatherback turtle at night. However, during the day it gives its visitors the best surf in the area.
Playa Tamarindo.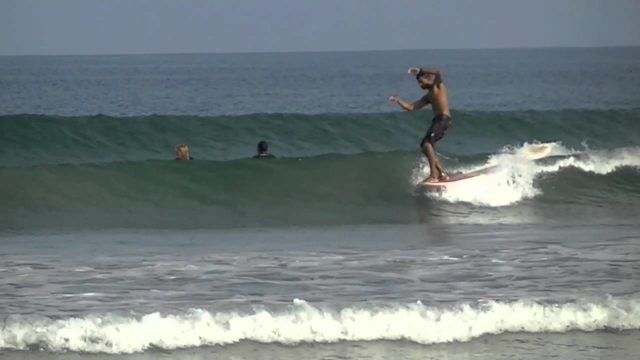 It is the quintessence for surfers, making it the most fashionable tourist complex nowadays. Surf lovers can enjoy an awesome breakwater thanks to the river mouth.
Further south, Playa Langosta is located, a major challenge but with less consistent waves.
Playa Avellanas.
With a growing number of services that cater to surfers, with half a dozen coral wave breakers.
Playa Negra.
It is accessed by a dirt road. This gray sand shoreline is a rugged coastline; it is very popular among those looking for a huge coral wave breaker.
Playa Santa Teresa and Playa Mal País.
Today is the most fashionable place for those who practice this sport discipline.
Both twin beaches run along a rugged coastline full of surf camps, fancy bars, and even luxury resorts. It has several recommended surf points.
The Central Pacific.
Playa Jaco.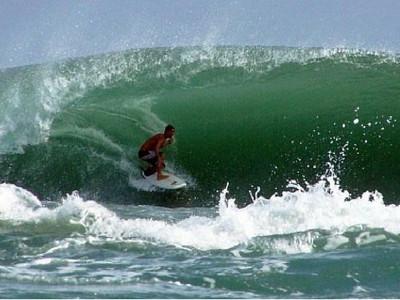 It is the original surfer beach that still attracts a loyal crowd of this sport. Jaco has recently become the main seaside party center. Surfing here has consistent and powerful waves, always crowded with surfers looking for perfect tunnels.
Playa Domingo.
Relaxed and fashionable, and increasingly offering luxurious lodging offers. Wave breakers here range from the simplest to the most complicated.
Golfo Dulce and the Osa Peninsula:
Cabo Matapalo.
Located in the southeast point of the Osa Peninsula, it has great rocky wave breakers. Therefore it is more suitable for expert surfers.
Pavones
Known as a mecca for surfers, it is recognized worldwide for its left breaker that on a good day can give waves of up to a kilometer in length.
Useful tips for surfers:
Before entering the sea, inform yourself about the presence of dangerous currents, weather conditions, waves and type of underwater soil.
Stay alert about sea conditions, as it is a dynamic environment that is constantly changing.
Always carry the strap by hand to hold the board near the body, for the safety of other surfers.
If you are a beginner, look for areas that are not very congested to practice and with the presence of a lifeguard.
Take into account each of these recommendations before surfing.