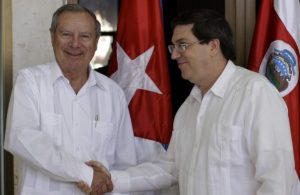 Costa Rica News – Costa Rica's foreign minister, Enrique Castillo, and his Cuban counterpart Bruno Rodriguez, officials held talks this week in Havana and reviewed bilateral ties with the Ministry of Foreign Affairs of Cuba (MFA).
Castillo, the first Costa Rican Foreign Minister on an official visit to Cuba following the restoration of diplomatic relations in 2009, arrived last week in Havana with an agenda that includes the signing of joint agreements.
At its meeting on Thursday at the headquarters of the Cuban Foreign Ministry, Castillo and Rodriguez "reviewed the state of bilateral relations, while expressing interest in diversifying the links on cooperation," said MFA.
During the "cordial meeting", the ministers also exchanged views on "other issues of common interest of the international and regional agenda, particularly on the Community of Latin American and Caribbean".
For his part, Rodriguez thanked Costa Rica supported Cuba against the economic and commercial blockade that the U.S. has applied to Cuba since 1962.
Cuban Foreign Minister also considered that this visit "boost" bilateral ties and will identify new areas of cultural exchange, economic, scientific and sports.
According to the schedule released by the MFA, Castillo will participate today in the signing of the "Framework Cooperation Agreement between the two Governments" at the headquarters of the Ministry of Foreign Trade and Foreign Investment, and "develop other activities."
Costa Rica unilaterally broke relations with Cuba on September 10, 1961 by a decree of the President of the time, Mario Echandi, but resumed March 19, 2009 by another decree signed by then president, Oscar Arias.
The Costa Rica News (TCRN)
San Costa Rica