Are the best beaches in Costa Rica in the Caribbean or the Pacific Ocean? The Costa Rican territory has beautiful beaches in both oceans that all deserve to be visited. We present to you here 8 of the best beaches in our country for you to enjoy.
Manuel Antonio (Puntarenas)
One of the best beaches in Costa Rica to see wildlife. The park and its beaches are one of the most important and popular destinations. So you will see both foreign visitors and locals, all enjoying its white sand and its crystalline waters. The beach here has a great extension so there is space for everyone to have fun.
TIP: Get our latest content by joining our newsletter. Don't miss out on news that matter in Costa Rica. Click here.
Manuel Antonio is not only recommended for its beaches but also the National Park. Before relaxing in its waters you can walk along its paths to appreciate all kinds of fauna and flora, in addition to reaching a small waterfall. We recommend Espadilla Sur, the beach that is to the right of the access road; it is very quiet and beautiful.
Be careful with monkeys and raccoons that sometimes like to intrude. Hide food well and don't locate near trees, because monkeys will come for your food and escape in droves.
Turtle Island
If you think of paradise, surely something like Tortuga Island comes to mind. It is a super quiet island accessible by boat from Jaco, Puntarenas or Herradura. You must contract a day tour. There is no hotel or restaurant so take your precautions. The water looks like a crystal clear swimming pool to take a leisurely bath or to go kayaking. Surely you will see some goldfish, striped octopus and even sharks and dolphins.
Manzanillo (Limón)
The beaches of the Gandoca-Manzanillo refuge are spectacular. Manzanillo is one of the best beaches in Costa Rica and the best in the Caribbean. It is characterized by its white sand and crystal clear waters. It is much quieter, although it always attracts many visitors.
The most beautiful sector is very close to the small town of Manzanillo. You will only have to cross a small suspension bridge and follow the path. We advise you to reach the viewpoint of Punta Manzanillo and enjoy the views of one of the best beaches in our country.
Conchal (Guanacaste)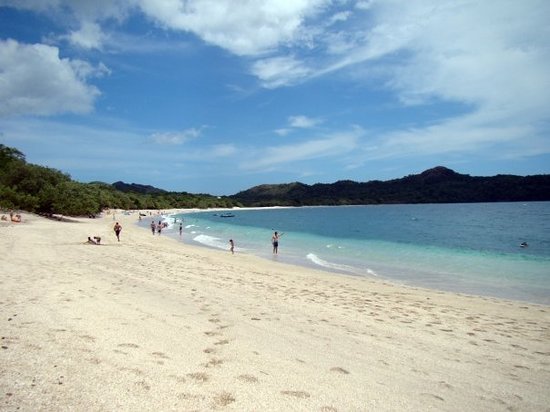 This beach is one of the most famous in the country. Partly because it has a unique feature. Shell pieces replace the sand. In other words, its 98% composition consists of pieces of shells and pulverized strata rock, which distinguishes it from the other beaches of Guanacaste.
Santa Teresa (Puntarenas)
Its waves are usually ideal for those who practice this surf. It also has sand so fine and white that it is very pleasant just lying on it. The atmosphere around the beach is very pleasant with good restaurants and hiking trails.
Dantita (Puntarenas)
Horseshoe-shaped is surrounded by vegetation and the water has a beautiful unique color. The sand surface is rather irregular but one of its charms is the serenity you feel being here without any bustle.
Montezuma (Puntarenas)
One of the best beaches in Costa Rica for snorkeling. It is rather small in size and with a dry forest in its surroundings where you can see some monkeys. There is a bohemian atmosphere similar to that of the Caribbean, with street vendors selling handicrafts and an organic market held every Saturday.
Tamarindo (Guanacaste)
Tamarindo Beach is one of the most visited in Costa Rica. With a dynamic, cosmopolitan atmosphere, a wide variety of hotel and gastronomic offer. It is a perfect place for surfers.