Much of Costa Rica has been tamed over the years, and there are many wonderful and special places all across this country.  Yet one stands out above all others as the wildest place to experience untamed forests and large amounts of wildlife. That place is Corcovado National Park in the country's Osa Peninsula. It's less convenient, less accessible, and more time consuming to travel there.  It requires permits and guides, expenses not everyone can afford. For these reasons, it remains far less visited and far wilder than more popular parks like Manuel Antonio or Arenal Volcano National Park. Anyone who's visited can tell you Corcovado National Park is worth the extra effort, and if you're a die-hard nature enthusiast, visiting should be a priority.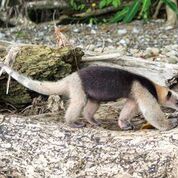 The 160 square mile Park is isolated on a peninsula, and scientists consider it to be the most pristine and bio-diverse rain forest in Central America. The Park contains 2.5% of the world's biodiversity, 13 major ecosystems, and the last remaining old growth wet forests on the Pacific coast of Central America. Corcovado is also your best chance at spotting some of Costa Rica's most endangered species like the jaguar, Baird's tapirs, harpy eagles and scarlet macaws among many others.
Plan Ahead:
In addition to required permits and guides before you can set foot inside the Park, there are seasonal conditions and limited accommodations that will affect your visit. There are just a few ranger stations inside Corcovado, and even fewer have campgrounds or potable water.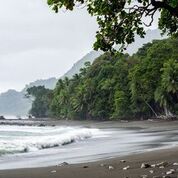 The dry season, November – April, is when most will travel to the Park, and the green season, May – mid-November, is when heavy rainfall can wreak havoc and you'll want to have flexible plans. Many places close completely in October when storm and flood conditions are the worse, so be aware of this during your planning.
The green season does offer the better opportunities to see specific wildlife like reptiles and amphibians though, and many tourism-related businesses such as tour guides and hotels offer discounts.
Getting there:
By Land: Daily collectivos (shared taxis) depart Puerto Jimenez, and will drop you off just outside of Carate, which is the end of the road. You can also hire a taxi or take other transportation.  But be prepared as the 2 to 2.5 hour ride is on unpaved, rocky, and wet roads.
By Sea:  There are several boat options to reach the Park. A new collectivo boat departs Sierpe at 9:30am to Drake Bay. Tours depart Drake Bay Wilderness Resort to San Pedrillo Ranger Station on a 20 minute ride. There are also boats that make the 1.5 hour journey to Sirena Ranger Station.
By Air:  Flying into one of the airports nearby, or directly into the Park is the quickest and most convenient mode of transportation. It is, however, also the most expensive. Nature Air and Sansa Airlines have daily direct flights from the capital, San Jose, to both Puerto Jimenez and Drake Bay. Alfa Romeo Air Charters will even fly you directly to the Sirena Ranger Station.
My Corcovado Adventure Experience
With just a small window of time to visit, I took a 2-day guided tour of Corcovado. I had made my way to Puerto Jimenez via San Jose on a long bus journey. Since I visited during the green season in early October, the Sirena Station was closed and there would be no overnight camping, leaving hiking options limited. Instead my guide suggested an all-day hike from La Loena Station and back, camping just outside the Park's boundary overnight. We took the collectivo into Carate, and the adventure began.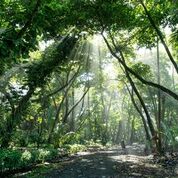 The hiking trail from the La Leona Station into the Park stayed in close proximity to the beach, but with intermittent rainfall it was muddy trekking. If you've never ventured into primary forest before, it's quite surprising how dark the forest is during the day. The tall trees and dense vegetation block out all but a small fraction of the sunlight. Even with the rainfall and shade from the forest canopy, the hot temperatures and humidity left us drenched in sweat. Carrying sufficient water to stay hydrated was an absolute must.
In addition to being required, having a professional and talented guide greatly enhances the experience – my guide, Phil, was spotting wildlife that my untrained eyes would've never seen. He spotted poison dart frogs, anteaters, toucans and macaws, several species of monkeys, and a great variety of other animals before we'd even sat down for lunch. Since the Park is much less visited, many animals payed little attention to our presence.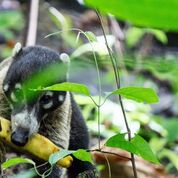 After a long, hot morning of hiking, the trail ventured out of the forest and onto the beach – where the remains of an old, rusty shipwreck lay in the sand. The only visible remnants of the wreck were jagged rusty pieces of metal, and the ship's large engines.  After some relaxation and food on the beach, the late afternoon crept up upon us. With the Sirena Station closed, the only option was to turn around and return back to La Leona. After the long hike back, we relaxed on the beach where we enjoyed one of the most amazing sunsets I've ever experienced. In total we hiked for over 10 hours, and didn't seen another person on the trail for the entire day! I still can't believe places that beautiful and special could still go uncrowded, especially after seeing the amount of visitors at Manuel Antonio.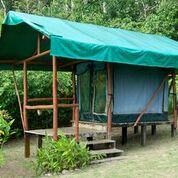 Our camp consisted of small rustic tents where we cooked dinner. Although we had planned to go night-hiking in search of frogs and snakes, heavy thunderstorms put a plug on that. The following morning was spent hiking near the entrance of the Park before catching the collectivo back into town.
After years of traveling, I regard my time in Corcovado National Park as some of my most cherished and precious memories. It's the kind of place you have to experience firsthand before you can truly understand just how special it is.
WRITTEN BY:  James Kelley          http://www.EscapingAbroad.com
Contact Us for more information on what to see and do while in Costa Rica.