The economic complementarity between Costa Rica and Panama was analyzed in a forum held in Costa Rica, where it was known that trade between them amounted to almost 500 million dollars in 2016.
The third destination of Costa Rican exports is the Isthmus, preceded by the United States and Mexico, and accounted for 454 million usd in value, according to official figures, so that the trade balance favors the neighboring nation.
Panamanian imports cover a wide range, and food preparations top 50 selected items, including dairy products, packaging components, animal feed, insecticides, gas waters, soft drinks, paints, and varnishes, among others.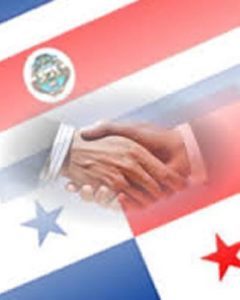 When analyzing the impact of these products on domestic consumption in Panama, consultant Alexis Pineda said that there are still niche markets that can cover the producers of the neighboring country, since the demand is greater in almost all the aforementioned lines. In the Costa Rica-Panama Forum: Two Complementary Economies. Opportunities and Challenges, Essie Mastellari, an official with the Panamanian Ministry of Commerce and Industry, also welcomed the visitors, recalled that bilateral relations extend to 113 years.
Because of its proximity, the neighboring nation is the first Central American destination and the third largest export destination in the world and until 2016 represented six percent of what was sold abroad, which accounted for 38.3 million usd in 2016, said Mastellari.
The main items marketed in the market are aluminum containers for beer and other carbonated drinks, cheeses and other dairy products and carton packs, said the source at the meeting hosted by the local Chamber of Commerce, Industry and Agriculture and the Embassy of Costa Rich here.
Panama's direct investment in Panama amounted to US $ 824.8 million up to 2015, the largest in Central America and the Caribbean, and mainly in the construction, dairy, financial and communications sectors, among others, According to the source.
Mastellari announced that the governments are analyzing to complement Costa Rican fruit exports, the largest in the sub-region, and Panamanian potentialities in logistics services, combining port facilities near the common border.