The intervention of officers of the National Guard and environmental organizations saved more than 3,000 leatherback eggs from ending up in cantinas or street sales.
Since the start the spawning season of this turtle on the Caribbean coast in late April, the Coast Guard has intensified its efforts to protect this species.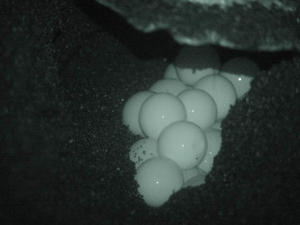 In about month and a half of patrols, some 36 nests containing between 87 and 100 eggs were relocated in various nurseries.
When officers detected a nest, they immediately moved the eggs to the biological reserves of Mondonguillo and Urpiano Lagoon, both located in Matina, as well as a nursery owned by the Coast Guard in Serafin lagoon near Mondonguillo.
Eggs can not be left on the beach because the chances of adult turtles arriving to hatch and to give life to new babies are almost zero given the depredations of so-called "poachers".
Operations have spread from Moin to Pacuare bar, which is the segment of the Caribbean coast where the most popular beaches are located for leatherback turtles to lay their eggs.
In addition to these three thousand eggs rescued by the Coast Guard, environmental organizations have also managed to save many thousands of eggs from being in the hands of poachers.
Source: crhoy.com