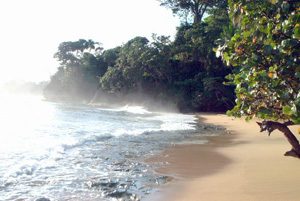 by M. ALFARO XIMENA
The municipalities of the most visited beaches of the country stepped up measures to control the flood of waste deposited by vacationers during the Easter weekend.
Marvin Elizondo, the mayor of Garabito, Puntarenas, said that for three years now they have performed a special trash collection day.
However, Elizondo said that before the start of Easter there was a greater amount of trash on the Agujas, Herradura and Hermosa beaches.
In addition, Elizondo said that Playa Herradura is one of the biggest problems due to the larger amount of people looking to camp there.
"The law states that no camping is allowed on the beaches, but during this holiday on Herradura beach people come with their tents," he said Elizondo.
The mayor explained that for this reason they set out more trash cans and hired three extra people, in order to maintain the cleanliness of the beach.
In Jaco, head of Garabito, treats between 20 and 30 tonnes of waste per day in low season.
However, when the number of visitors increases the wastes climbs to between 40 and 50 tons per day, but the municipality did not take extra measures to collect the excess waste.
Meanwhile, Jorge Chavarria, mayor of Santa Cruz, Guanacaste, reported that the county constantly monitors the trash.
Chavarria said that one of the priorities of the area is to ensure the restore the blue flag beach Tamarindo lost in 2008.
The mayors of Santa Cruz and Garabito acknowledged that the communities still have much to improve upon concerning garbage collection.
In the Caribbean, despite the considerable number of visitors, most beaches were clean yesterday.
According to visitors, residents are responsible for collecting the garbage to keep the coast free of debris.