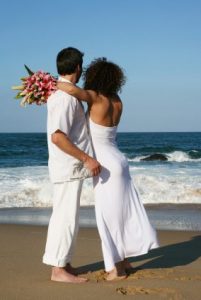 Many people love the idea of a destination wedding because it offers something exotic, unique and special for one of the most important days in a couples life. If you are going to be getting married soon, and you are trying to choose the perfect place for a wedding, have you considered Costa Rica? A destination wedding in Costa Rica has a great deal to offer and it can be tailored to meet your preferences. You can have the island paradise wedding ceremony that you want.
The great thing about a wedding in Costa Rica is that you can choose from a number of different options for venue and location. In Costa Rica, you will find the beautiful white sandy beaches and blue waters. Imagine standing with your love as the sun sets across the shimmering waters? Other beaches available for a destination wedding in Costa Rica include waves crashing on rocks for dramatic backdrops. If the beach is not your favorite option, you could still consider a wedding in Costa Rica and it can include a tropical paradise look.
Costa Rica is a paradise of natural first and second generation tropical forests. That means the woodlands are full of lush greenery, flowering trees and tropical splendor. You could choose a venue for a wedding among this greenery. You will not even need flowers for your wedding venue when you choose to get married in this type of setting.
When you decide to get married in Costa Rica, you will need to decide what type of wedding ceremony you want to have.
Many destination wedding locations are only designed to offer a casual ceremony feel. However, you can choose between casual or formal weddings in Costa Rica and either of them will fit in well with the surroundings. You can have the perfect wedding of your dreams and it can still be located in the right spot.
If you are thinking about choosing a destination wedding, then you will have a great deal of decisions to make. One of these decisions would be what destination to choose. Consider Costa Rica. This paradise offers a selection of backdrops and surroundings that will provide you with a paradise wedding. Your wedding is one of the most special days in your life. You can make sure it is as memorable as possible when you choose to have it in an exotic location like Costa Rica.
By: Christien Johnson
If you would like us to introduce you to a wedding planner here in Costa Rica, please send an email to  [email protected], subject line Costa Rica Wedding