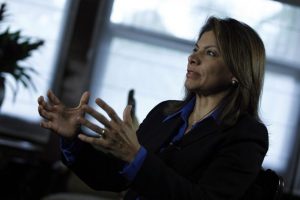 Costa Rica's President Laura Chinchilla said after meeting Pope Francisco today it felt as if "a friend" who gave you "spirit" and "breath".
"He is a man of great warmth and his closeness feels enormous, like a friend…," said Chinchilla.
Laura Chinchilla attended the enthronement of Francis in the Vatican and was sitting in the front row, which she described as "a privilege".
Then the president reported that she had the opportunity to greet the Pope, when he gave "a message of love in the Costa Rican people."
"I said that the Costa Rican people feel identified with his papacy because its development has long emulated the Franciscan spirit, as Costa Rica is a humble and protector of nature," said Chinchilla.
The president said that Francisco sent a "warm greetings" to Costa Rica.
"He said, 'You are a woman of courage' and I thanked him very much for his encouragement me and he also encouraged me to continue confronting the challenges we have in our country," said Chinchilla, whose government ends in May 2014.
The President took the opportunity to invite the Pope to visit Costa Rica, but recognized that it is difficult to do.
The only pope to have visited Costa Rica was John Paul II in 1983.
The Costa Rica News (TCRN)
San Jose Costa Rica