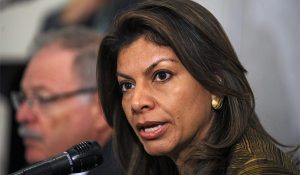 Yesterday President Laura Chinchilla signed a measure that will cap spending of six institutions that provide public services. The move is designed to mitigate and regulate future rate increases for electricity, water and fuel as well force these institution streamline their operating costs.
Chinchilla imposed a spending cap on Costa Rican Electricity Institute (ICE), Costa Rican Oil Refinery (Recope), Aqueducts and Sewers (AyA), the Compañía Nacional de Fuerza y Luz (CNFL) Service Company Public Heredia (ESPH) and Electrical Service Administrative Board of Carthage (JASEC).
The President said she made this move so that "Institutions will have to learn how to economize".
Operating costs of these institutions, which include salaries and supplies, will be affected .
By 2014 growth caps and expenses may not exceed inflation by more than 15%.
Chinchilla also ordered these institutions to grant wage increases higher than those decreed by the Executive branch.
Source: La Nacion
The Costa Rica News (TCRN)
San Jose Costa Rica