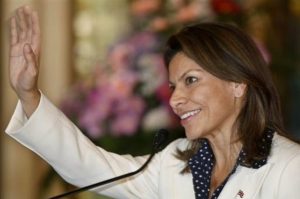 The Costa Rica New (TCRN) – The President of the Republic, Laura Chinchilla, announced that her government is willing to undertake one last fight towards fiscal reform, during the last days of her administration.
The president used her speech for the celebration of the 192 years of independence to support and achieve legal and fiscal reforms to enable the next president to fulfill their campaign promises.
In the speech President Chinchilla emphasized that a "dark cloud" has accompanied her administration, but said they persevered.
Among the administrations achievements, she said the country managed social investment, investing over 7% of GDP on education and the rescue of the Social Security Fund (CCSS).
Laura Chinchilla reiterated the conflict with Nicaragua, against which the president asked to create a "healthy nationalism ".
Earlier yesterday, the president placed a wreath at the National Monument in memory of those who fell in battle to defend the filibuster Central Americans in the 1856 campaign. LN
The Costa Rica New (TCRN)
San Jose Costa Rica