The oldest man in Costa Rica is on birthday. José Uriel de Los Ángeles Delgado Corrales was 119 on March 10th. Better known as "Chepito", this Sunday (yesterday) José celebrated his birthday in the companion of his friends from the elderly home of Piedades de Santa Ana, where he has lived for 25 years.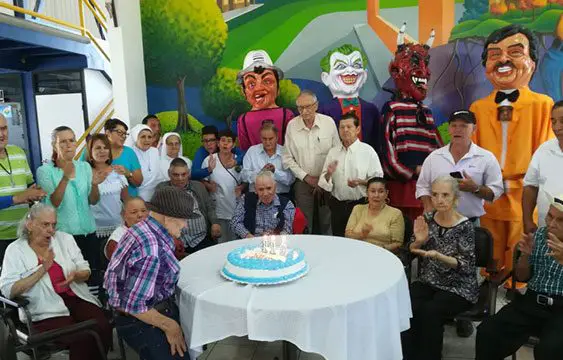 "'Chepito, you are celebrating your birthday today!' I said earlier, and he said: 'Yes!' I asked him 'Do you know how many?' And he replied: 'Many!'", commented one of the workers in charge of the senior center, Dadiany Dimatteo.
TIP: Get our latest content by joining our newsletter. Don't miss out on news that matter in Costa Rica. Click here.
This Sunday, they celebrated the birthday of "Chepito" with a party, where they took the Cimarrona to the oldest Tico. "We see him dancing and smiling, although he does not know how old he is, nor does he remember that he is the longest man in the country, he lives with joy every day that goes by.
We see him getting better; he sleeps well, listens well and he speaks well, although he may not be able to maintain a fluent conversation, it costs him a little to open his tiny eyes", said Dimatteo.
According to the civil office record, José Uriel was born on March 10th, 1900; that is why he is considered to be the oldest person in Costa Rica. Some months ago, he underwent surgery for an inguinal hernia (which gave him problems for eating), a process from which he has recovered satisfactorily.
Happily, his companions comment that he is even in better conditions and more talkative than before.
UPDATE FROM ORIGINAL ARTICLE
Since publishing this article some of our readers have brought the following to our attention:
At the time birth certificates were not known. The majority of children were born in their homes and if they were registered it was in the parish when baptized. 
In many smaller  or distant rural areas there was no parish and many children were not ever registered.
A truly effective Civil Registry did not exist in the country. It was until 1905 that the birth certificate appeared and it was until the second decade of the 20th century the institution came to have its own building which had offices only in the capital city.
A change took place in 1910 when it was allowed to invest as auxiliary registrars not only police agents but also  public school principals, telegraph operators and postal and telegraph administrators, and even qualified private individuals .
In other words, birth records were not made before a government agency, but mostly in the parishes at baptism and by these other means noted above.
National ID cards were not know, the first " cedulas" were issued in 1925 but were mere electoral voting cards which bore the name and number of the voter. These were issued only to men of legal age, who could read and write, possessed enough financial means and a given amount of landed property.
Later on by the 1930s cedulas were issued also as taxation identification documents.
I should point out that the manner Chepito came to be registered and acquire his cedula and thus his claimed age is merely a conjecture.
However, if it walks like a duck, quacks like a duck, etc. one may safely when arriving at such conclusion quote Sherlock Holmes in saying " Elementary, my dear Watson " wouldn' t you agree?
Special thanks to Jaime G. Vargas for his added contribution to this article.