The Vice President and Minister of Foreign Affairs, Epsy Campbell, took to the discussion of the 73rd Assembly of the United Nations (UN) the crises that are experienced in Nicaragua and Venezuela.
In the case of Nicaragua, the foreign minister said that the situation is "not sustainable" and criticized the government of Daniel Ortega expelling the Mission from the Office of the High Commissioner for Human Rights in his country.
The Costa Rican leader said that the crisis in that nation has a direct impact on the stability and development of Central America and urged the international community to promote a dialogue that leads to an early resolution of the conflict. "Selective repression, intimidation, and criminalization have undermined the freedoms of its population one by one. We must mention that the grave situation of that country has claimed several hundred human lives", denounced Campbell.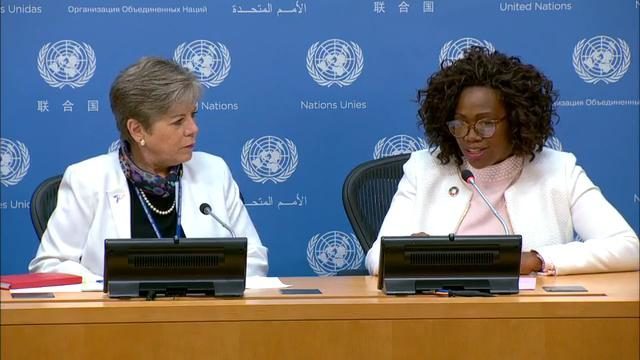 The Vice President added that the crisis in Nicaragua has caused an increase in migratory flows and requests for refuge in Costa Rica.
Commitment against the crisis in Venezuela
With regard to Venezuela, the vice president said that the country "has been consistent" in accompanying the international community in the efforts that have been made to put an end to the crisis.
Meanwhile, in Costa Rica, the opposition reproaches the Government for not supporting the denunciation against Venezuelan President, Nicolás Maduro, before the International Criminal Court. "We reaffirm our commitment to contribute to overcoming the serious political, economic, social and humanitarian crisis that Venezuela is going through, through a peaceful and negotiated solution, within the framework of International Law", she added.
She also promoted the implementation of the Arms Trade Treaty
"Now, together with a group of States and civil society organizations, we imagine a world without nuclear weapons. For our country, the only way to ensure that nuclear weapons are never used again, under any circumstances, is through their total elimination. With the approval of the Treaty on the Prohibition of Nuclear Weapons, the international community decided that the binding legal prohibition of these weapons is a fundamental contribution to this objective. With deep conviction and ethical sense, today we call on all countries to sign and ratify this historic treaty".
In her speech, Foreign Minister Campbell also advocated for the economic empowerment of women and emphasized the lifting of the blockade against Cuba. Campbell delivered the speech in substitution of President Carlos Alvarado, who the previous week was forced to suspend his participation to attend the strike of public employees against the fiscal plan.