Bullying can be defined as the mistreatment or aggressive behavior of a particular individual towards another, which is constantly repeated in order to produce damage premeditatedly. This type of harassment is characterized by opting for cruel, brutal, and often inhuman behavior with the main purpose of inflicting damage to a particular person to frighten or subdue him/her.
Types of bullying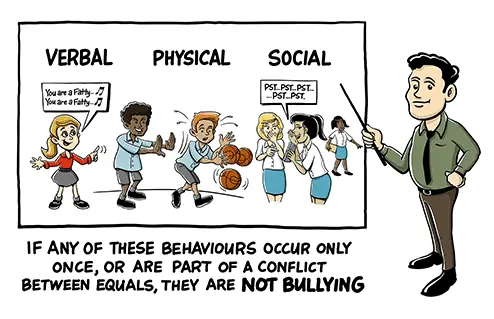 Bullying can be psychological, verbal, social, or physical. Here we will explain what each one consists of:
Psychological bullying. It is when they attack the person's self-esteem and try to produce a sense of fear in it. This bullying can have serious consequences. In some cases the victim chooses to end her life and, according to herself, to avoid being mistreated.
Verbal bullying. It consists of telling the victim all kinds of insults, nicknames, nicknames, mockery, scorn, is characterized by attacking physical defects. As a result, some change their eating habits (in the case of the obese, avoid eating and lean people, eat in an uncontrolled way) affecting their diet, which could lead to serious health problems, including malnutrition.
Social Bullying. It seeks to remove or exclude the individual from the rest of the classmates or group (this type of bullying is more common in girls). This influences the motivation of the person to continue attending classes, sports, music, or any other place where he/she is a victim of this type of abuse.
Physical Bullying. This is the most common because it physically assaults the person by kicking, beating, pushing, etc. In more serious cases, objects that seriously damage the integrity of the victim are used and may even cause death.
Causes
Bullying can be due to multiple factors. Among them, we can mention the influence of the social media, the family, the school environment, etc.
The family environment. When children are exposed to family violence, they can acquire this type of behavior and manifest it with other people, since the perception of violence is the most viable alternative for them. This happens in most Latin American countries, where parents generally use violence to rule their children; supposedly, to gain respect and make them obey. This behavior is repeated by the children towards their peers.
Social media. They also influence the aggressive behavior of children due to different programs of violence and action. Nowadays, everything practically revolves around the internet, due to its easy access, children and adolescents count with an endless amount of material which influences their behavior, such as amateur videos of street fights, robberies, murder, films with classified content, etc. All that not to mention that they are rarely supervised by their parents or representatives.
The school environment. Here, teachers play a fundamental role, since they are the ones in charge of disciplining children in the different student bodies. They would represent the role of parents since, besides preparing them academically speaking, they must sow values and discipline. Paradoxically, the school environment is where more abuses are known as bullying.
How to recognize bully
It can be observed that an aggressor or bully is developed by multiple factors. Although it may seem difficult, in fact, it is not so difficult to recognize a bully. The clothing you wear is a key factor. Your appearance is the first clue. Usually, a bully wears loose (rapper-like) or dark-colored (punk-like) clothing. In addition, piercings are also placed on different parts of the body; tend to dye their hair or trim it out of "ordinary" ways. They express themselves in a derogatory way, everything causes them discomfort; his aggressive behavior is very evident.
Can it be avoided?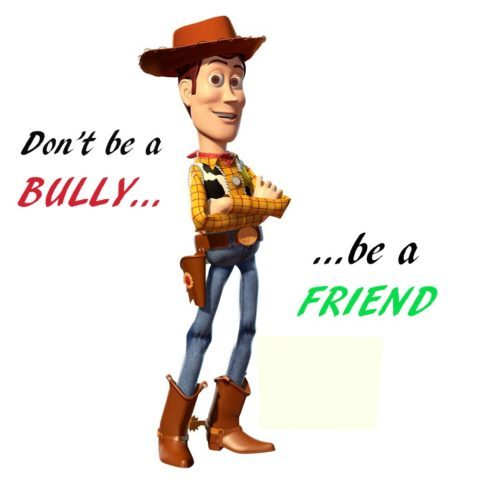 Well, it is a question that many parents ask. To all of them, we say yes, of course. One should only be very aware of. That is, take very seriously what it means to be parents.
Remember that you are educating as well as being the role model of a person who will grow up with these teaching and that, for the better or the worse, will live with these customs. You should be very aware of what kind of search terms your children use on the internet; what TV shows they are watching; what kind of music they are listening to.
You should always educate them to avoid violence, so they do not adopt such prejudicial behavior. After all, the most important thing is to know who your children are related to.
For parents who wonder if it is possible to avoid bullying, we may ask them: Do you really know your children? Do you know what they see and hear? Who do they relate to?
As a reflective practice, try to answer each of these questions as sincerely as possible, and you will know if you are doing whatever is necessary to prevent your children be victimized by this kind of aggressive behavior.