By Erin Morris, TheCostaRicaNews.com.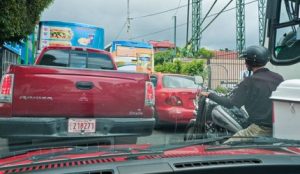 Bad drivers, aggressive driving, contamination, lack of information, rude passengers, noisy traveling companions, and interruptions of service are the seven problems that Costa Ricans encounter in their commutes to work.
A survey company hired by Regus, a provider of workplace tools, say that Costa Ricans who commute placed dangerous drivers at the top of the list of disadvantages.
According to Regus, in Costa Rica, the average commute to work is 29 minutes, although 31% of workers have to travel more than 45 minutes one way.
"The time spent commuting is not as problematic as the experience of travel itself," says Regus in a statement.
Michael Turner, vice president for Regus Latin America, commented that the fact of not knowing about service interruptions or bottlenecks are situations that undermine the possibility of a peaceful and productive workday.
"Obviously, the plague of mobile phones also affects us and users do not realize, or perhaps do not care," Turner said.
The research was managed and administered by Marketing UK, during August and September 2010. There were 230 people surveyed in Costa Rica. The company did not disclose the mechanism used to determine the sample, or the method to conduct interviews.
The sectors included in the study were manufacturing, banking, insurance, finance, services, retail and technology.
The company Regus was founded in Brussels, Belgium, in 1989, and is headquartered in Luxembourg and listed on the London Stock Exchange.