A National and International Celebration
March 14th was the International Day of Action for Rivers
Costa Rica is commemorating the International Day of Action for Rivers by celebrating the fact that eight dam projects in the southern region have been filed in the no- go drawer. Local communities got together on March 18th to celebrate and strategize in San Rafael of Perez Zeledón.
The International Day brought together 123 registered actions in 43 countries. Thousands of people gathered and raised their voices to celebrate the liberty of rivers and the rights of communities who protect and defend them.  Hundreds of ecologist, indigenous, peasant and social organizations celebrate victories like the elimination of river dams and the restoration of river basins and ecosystems. They also unite in educational campaigns that promote alternatives, and the respectful use of water, as well  as energetic solutions that are inclusive and efficient.
This day is also known as the World Action Day Against Dams, and its origins go back to 1997, when the First International Encounter of Communities Affected by Dams took place, and the participants decided to launch this date to call for actions around the globe for the defense and liberty of rivers worldwide. Since then, this is a day for simultaneous collective action and mobilization around the world.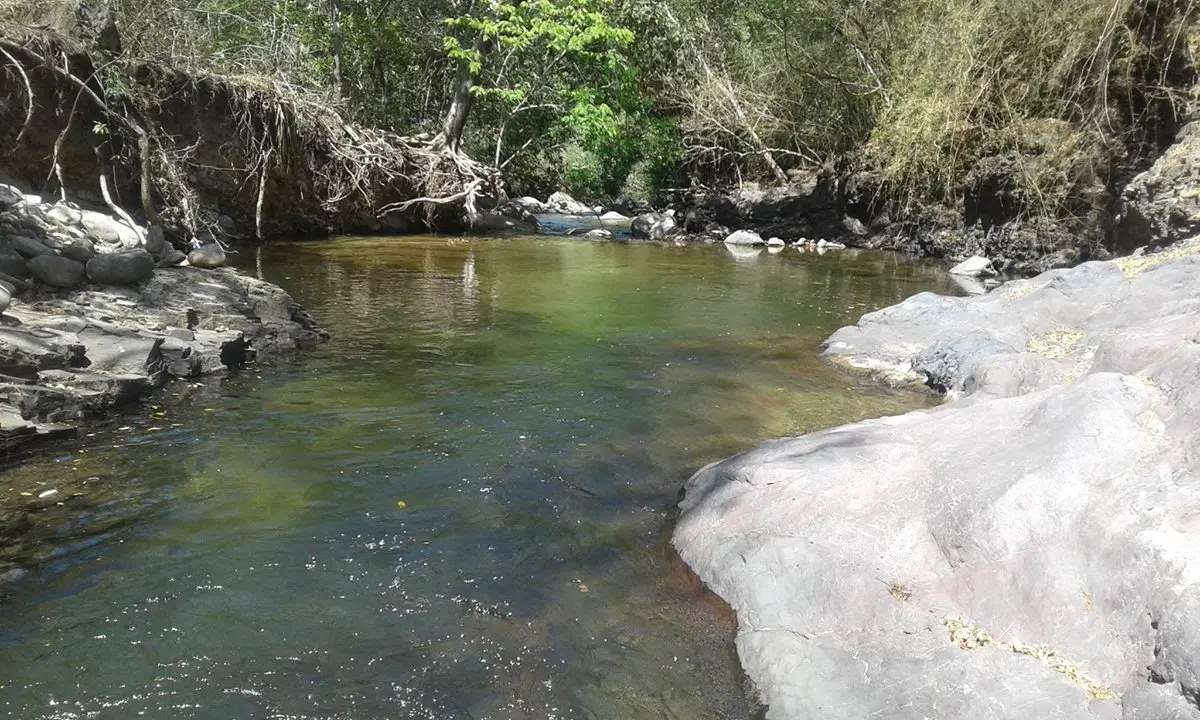 In Costa Rica, the communities are celebrating that thanks to their own actions, the SETENA (acronym in Spanish- National Technical EnvironmentalSecretariat- the equivalent agency to the EPA in the USA) has filed the Altamira Dam Project in the no-go archives. This was actually the third dam proposed in the Volcan River, in Osa´s Buenos Aires.
Jiri Spendlingwimmer , member of the Living Rivers Movement confirmed that "a beautiful part of the river Volcán was saved, where a very popular spot called La Perica is located. It is visited all year long by locals, and  the tourists that come to the Longo Mai community. This is one of the most spectacular ponds in Costa Rica. The hydroelectric project was threatening to take 90% of its water".
Mauricio Alvarez, Chair of FECON (acronym in Spanish- National Environmental Federation), declared that "reducing the rivers to 5% of its regular  flow, and calling it an "ecological flow" is an insult to our intelligence and it is totally unacceptable, because no river can survive with 5% of its stream. This is why we have been insisting during the last two decades, that there must be strategic evaluation, and zoning criteria applied to the analysis of the environmental viability of each project. This is essential for every river basin in the country. For example, just  in the river basin of the Río Grande de Térraba, there has been planning for five different public dam projects, and another 16 proposals that belong to private initiative. This has taken place since 2012, and all these projects are looking for their environmental viability permits by SETENA".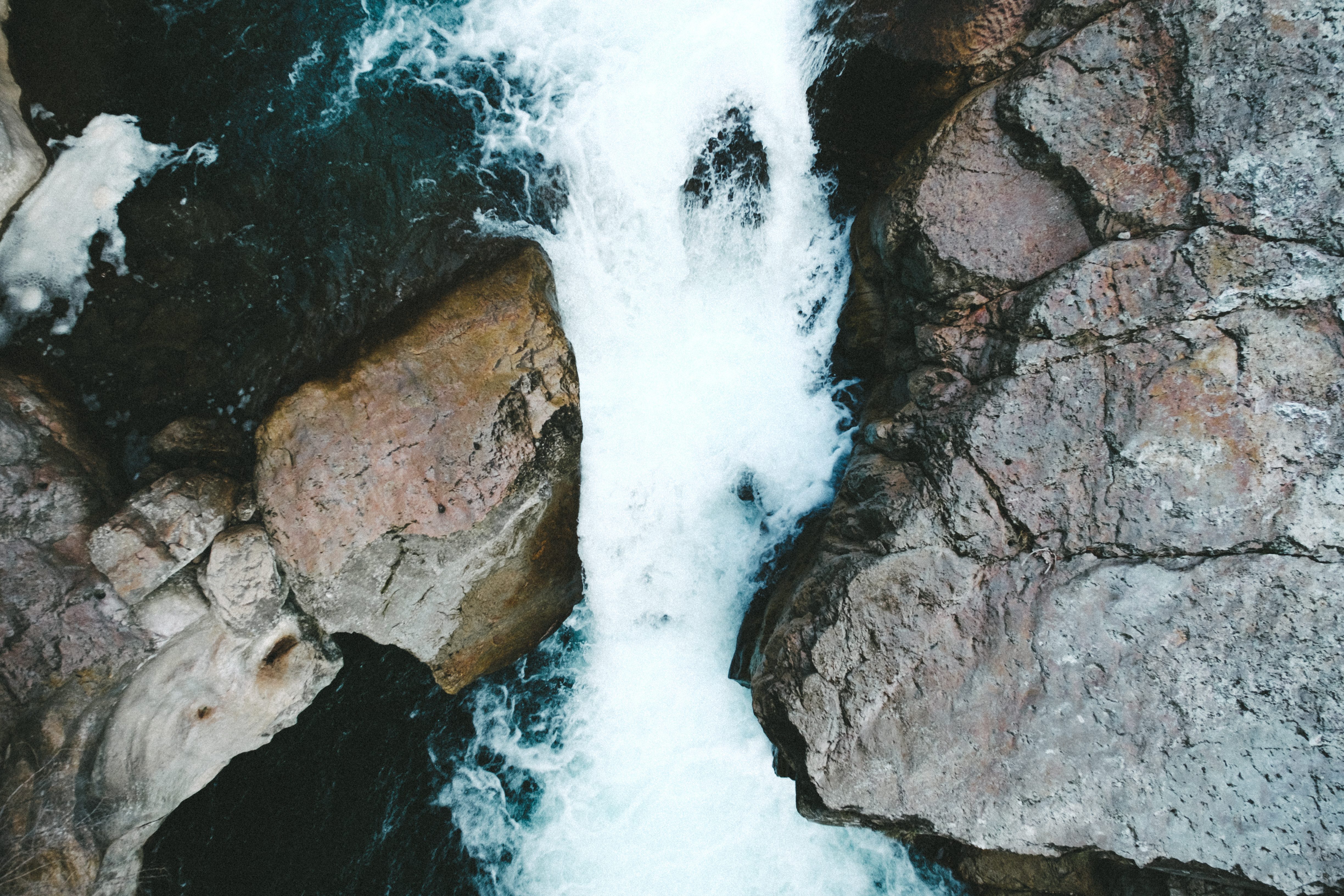 Eight projects have been declared non viable environmentally by SETENA:  San Pedro, Peñas Blanquitas I, Canasta, Cordoncillo I, Cordoncillo II, Monteverde I, Monteverde II and Altamira (just last week, this last one mentioned). This is all the result of community organizing and mobilizing, and the clear calling that these communities have made to protect these river basins, as they are the real fuel for development in the communities,  if they are kept as living rivers. This movement has been very successful especially in the last two years.
Osvaldo Durán sociologist and long time member of FECON (National Environmental Federation) mentioned that "the southern region of Costa Rica has been the growing ground of a successful movement of river defense like we had not seen in some time in our country. It started a long time ago in 1998, with the intent to privatize the ICE (Spanish acronym for Costa Rican Electricity Institute), but this is a movement that keeps growing wherever there is a river being threatened to stop flowing free".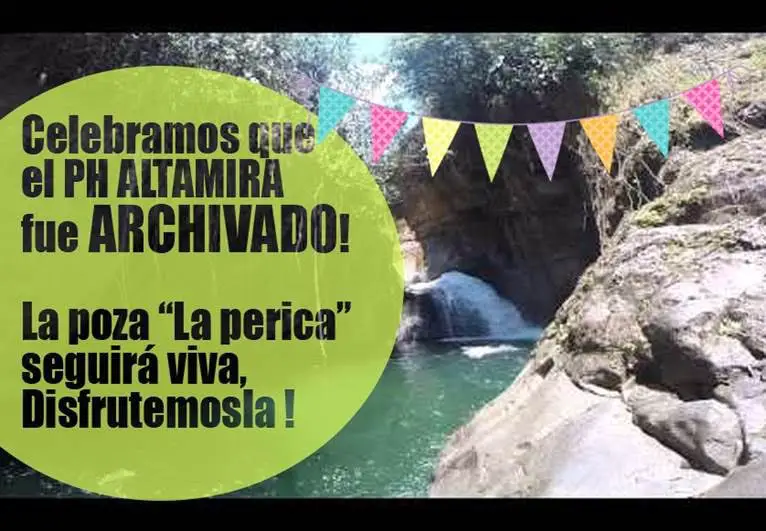 There are still two dam projects that are facing strong social opposition because of their potential impacts: San Rafael and Consuelo. San Rafael is a project promoted by a company called H. Solís, a building and road construction corporation that has been criticized for monopolizing over 50% of the road maintenance contracts from the MOPT (Spanish achronym for Ministry of Public Infrastructure and Transport).  The company is pushing for this project to be approved, but  had another 15 dam projects on its plate, only in the southern region. From all these, five projects have already been stopped, but the San  Rafael project is an ongoing conflict at this point.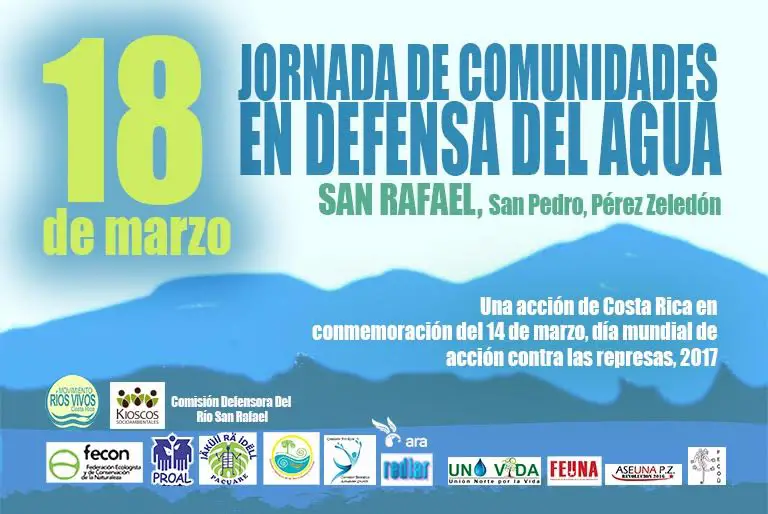 This is the reason why the community of San Rafael  was chosen as the host for this year´s celebration of the International Day of Action for Rivers. "We had a day of planning at a local, regional, and national level. The power of these gatherings is to share experiences, and come together to support one another in the river defense we all do",  concluded Mr. Spendlingwimmer in a cheerful way.
 In other regions of the country, several projects have also been filed in the no-go drawer. For example Las Vegas and Bijagual, in Acosta, where there is still a struggle against and ICE project. Another victory is the Executive Order that was signed to leave the Pacuare and the Savegre running free and undamped. There is  also a moratorium against dams in Upala and Coto Brus, and recently in Sarapiquí.  
In October 2014, the ecologist and environmental organizations declared a civil and citizen moratorium on hydroelectric dams, at the National Electric Dialogue.
Last Saturday all these organizations came together in San Rafael of Perez Zeledón. They shared experiences and strategized, to be able to face the expansive plans of the ICE and private generators. Mr. Alvarez, a geographer aside from being Chair of the FECON (National Environmental Federation), who has been working for decades on these issues, explained the purpose of the gathering last Saturday:
"We are looking to consolidate the participation of communities in the definition of the national electric model. They are the ones who deal with the negative impacts of dams and hydroelectric power, so they should have a voice and a right to build a different model that doesn't annihilate the river basins that are left healthy in Costa Rica".
Written by Alicia Casas