A REDDISH glow usually pops up on the TURRIALBA volcano when it is in activity
TURRIALBA IS CONSIDERED AN UNPREDICTABLE VOLCANO BY THE SCIENTIFIC COMMUNITY.
The sudden appearance of a little lake in Turrialba volcano caught everybody by surprise, especially the local volcanologists who didn't expect something like that.
When Turrialba last erupted some days ago, the National Seismologic Network and the National Structural Material Laboratory planned a flyby around the crater for a closer observation of the lagoons.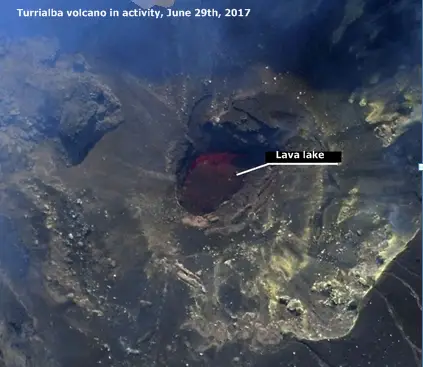 What's the origin of this lake?
According to Mauricio Mora, Dean of the Central American Geology School, this type of phenomenon emerges from repetitive eruptions, which are commonly the result of a constant and violent volcanic activity.
Reddish glow
Small lakes cause a red glow that's observable in the dark. This event is an irrefutable proof of ascent magma coming from the volcano.
What usually happens if a lake forms?
So far, scientists can't determine exactly when a lava lake is going to disappear. But they state that magma lagoons vanish once they get cold or during the rainy season.
This type of lagoons also dissipates when the volcanic activity increases in the magma chamber and when the crater becomes wider because of the explosions.
What's a "little lake" then?
Unlike lava lakes, they are smaller and last less. This natural phenomenon is still visible on the surface of the following volcanoes: Erta Ale (Ethiopia), Erebus (South Pole), Kilauea (Hawaii, USA), Nyiragongo (Democratic Republic of Congo) and Ambrym (Vanuatu). This natural event can occur sporadically, like in the case of the Masaya volcano in Nicaragua.
According to the experts, how will Turrialba behave in the next years?
This volcano acts like an open and motionless system. They are not waiting for changes to occur but they don't discard the probability of future eruptions either.
A group of local scientists has carried out several fly-byes around the volcano. The last air-expedition was last June 29th.