Costa Rica sits on the infamous Ring of Fire.  Which means there are 6 active volcanoes and 61 dormant or extinct ones in the country.  And one of these has been quite active this week with over 20 eruptions in the past few days, and some of the strongest eruptions in years.  Due to the tonnage of ash and dense fumes, eruptions of the Turrialba Volcano have been diverting flights into and out of the capital city, San Jose.  This ash fall has been carried in the winds for miles, and has been affecting wildlife, farming, and personal health of the people in the country.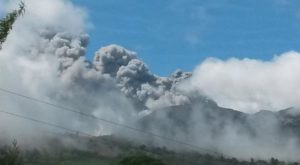 Authorities are already seeing the consequences of this wind-born disaster.  Ash fall can cause severe skin and eye diseases, as well as causing serious problems for those with respiratory concerns.  As a result, the Costa Rican Social Security Fund (CCSS) has seen an increase in medical visits and consultations related to these issues.
Armando Villalobos, director of the Central-South Regional CCSS said that different medical centers are prepared to meet this need for immediate attention.  The expert advice is do not be exposed to ash!  "We are preparing for respiratory and eye problems because we know that the ash is corrosive, abrasive, and can cause these problems. But we can't rule out other ailments, such as allergies," he said.

According to this official, in the event of an emergency of this kind, there are established emergency plans set in place at health centers which involves increasing the number of personnel, supplies and alternate care sites.  He added that through emergency commissions located in nearby communities, direct communication is being maintained and "everything is already organized."  But he did caution that surgical masks do not effectively protect against the medical consequences of inhaling the ash from the volcano.
After the eruption recorded on Thursday afternoon, the Turrialba volcano remains relatively calm.  But it certainly seems to have woken from its long sleep, and may continue to cause health concerns in the future.