If you just rented an apartment and all the walls look sad and desolate, or you've been living in the same space for a long time and want to turn the decoration around without having to arm yourself with a drill or demolish walls and spend a lot of money, these tips are perfect for you.
To renovate your home and create new environments in the spaces you inhabit, it is not necessary to hire a decorator or remodel. It is enough that you unleash your imagination and discover these simple ideas that will give a completely different air to your home. The best of all is that you can put them into practice with your own hands and without spending a lot of money.
Get inspired by this year's trends in interior design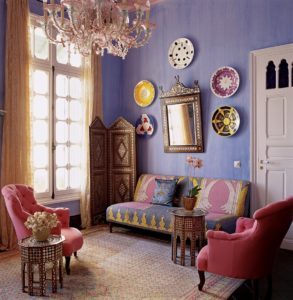 This year comes accompanied by new trends, for example, positive colors and craft details this year have been protagonists.
The Pantone color trend influences the design of furniture, so this year the ultraviolet became the muse of many designs, making itself present in large magnitudes in all tendentious homes, inspiring mystical emotions, relaxing sensations and creative abilities.
With great visual strength, the red detail is something that has filled with pride the interiors that have dared to incorporate it, in this 2018, an armchair or a red piece of furniture is an appealing accent for the fans of the design, as well as giving it a lot of style to the spaces, it is a color that stimulates and regenerates.
In terms of materials, cement is in vogue, because during this year the bright colors in contrast to the grayish color and texture of the cement give something to talk about and if you combine it with details and decorated in golden colors aged and metallic shines will give it A touch of old sophistication to your home. And to close with a touch of good taste you can add in your renovation design the timeless material par excellence, the wood, which this year has been used in dark colors to give solidity and a lot of personality to the interior spaces.
1. The color of the walls does matter!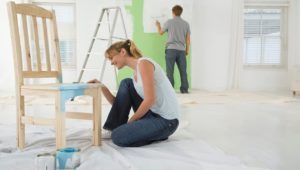 Choosing the colors to paint the house is never easy, especially if you know that it can influence not only the decoration of your home but also, it can affect your mood! Each color conveys something particular, and some colors are more appropriate for certain spaces than others.
If you cannot think of any special color that you want to renew your home with, you can be inspired by this year's trends, remember that violets, deep blues, and greens lead the way this year. And if you are of more minimalist tastes, think that light colors broaden spaces and make them look brighter, this does not mean that your whole house has to be white, there is a great variety of bright and soft colors that will give a special touch to your house!
2. Give a mysterious touch to your home using mirrors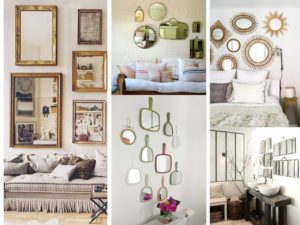 The mirrors are a timeless, practical, decorative element that helps us to increase the sensation of depth and luminosity in the environments. Choosing an appropriate design and a good location we will get very different effects within the decoration. You must take into account what is reflected in the mirrors and try to locate them in a space where the reflection is interesting or attractive, for example, a window that shows the landscape and enhances the light or on a wall where enhance the amplitude of space. Another way to return this mirror decoration the focal point of an environment is to play with its forms, whether they are several mirrors or one, a striking design can be a wonderful protagonist!
3. Protagonist pieces of old wood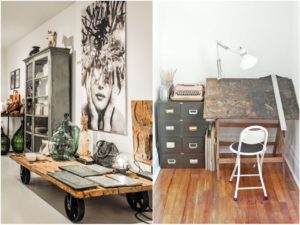 Wood is a beautiful material by nature. Its color and texture give it a special appearance, brimming with naturalness. And the best thing is that it ages in a wonderful way. That's why recycled wood furniture is so special, you can make it yourself with old pallets or boards, with a touch of ingenuity and originality they look beautiful! And if you are not looking to add more furniture, a painted branch or a decorative trunk of a beautiful wood can be a perfect decorative element to give your home a touch of sophisticated nature.
4. Give life to a wall with paintings or pictures!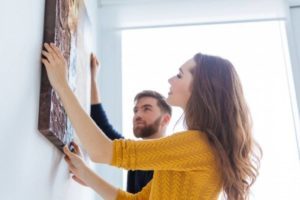 Although a single painting can play a full wall with elegance and good taste, you can have fun and bring a lot of life and freshness to a wall by decorating it with a mosaic of photographs or several minimalist paintings combined. The important thing in this type of decorations is not to abuse with extravagance, the photos should be well organized so that they do not overwhelm the view, and if you are going to hang several paintings, think that it is preferable that they have frames that harmonize with each other to provide rest to the look.
5. Refresh your kitchen with touches of paint.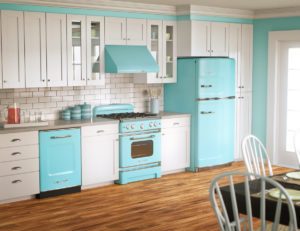 Time goes by everyone, and you've already realized that the kitchen is one of the worst places in the house. It is exposed to a continuous work of different temperatures, vapors, food, liquids and cleaning products.You can renew it more than you imagine by painting some shelves or worn elements. If they are made of wood you can paint or varnish them, or also use special finishes that you can find in your usual DIY store, such as Formica plastic laminates.
It is time to give that touch of affection to your home so you can enjoy it again as the first time! Get out of the monotony and dare to do some remodeling, with these tips it will be easy and you will achieve a perfect effect!