Henriette Jacobsen, TheCostaRicaNews.com
Costa Rica's national team's first soccer match at the brand-new stadium, Estadio Nacional, ended on Saturday with a 2-2 draw with China.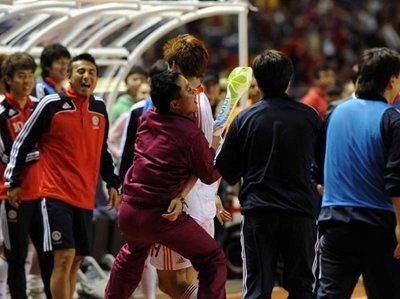 Around 35,000 soccer fans showed up to watch "Los Ticos" play China as part of the inauguration of the new national stadium in San Jose. Costa Rica's coach, Ricardo La Volpe, saw his team get off to a great start. After 4 minutes, Christian Bolanos broke free on the left and took a shot at the edge of the penalty area, and Chinese goalkeeper Yang Zhi had to stretch out in full length to save the ball. However, both teams struggled to create open chances throughout the first half due to poor display with many faults and bad passes. But the poor display on the pitch didn't stop an enthusiastic home crowd from starting several waves around the stadium.
Costa Rica wanted a penalty after 24 minutes when Dennis Marchall was shoved by a Chinese defender, but Panamanian referee Roberto Moreno's whistle was silent. China started to control the game while Costa Rica relied on fast counterattacks as when Alvaro Saborio was alone with Yang after 32 minutes, but the Costa Rican international shot right at the goalkeeper. Six minutes later, Saborio, who plays for Real Salt Lake in Utah, was alone with Yang again, and this time he beat the goalkeeper to put the hosts in the lead. One minute in to overtime, Michael Umana shot straight at Yang, but the ball deflection spun out to Randall Brenes who easily prod it in to give Costa Rica a 2-0 lead at halftime.
China came out in the second half with much more spirit. Chinese striker, Gao Lin, only needed two minutes before he had headed in his team's first goal from a high cross from the left side. After China's shock start, the two teams continued the pattern from the first half with China having the most ball possession while Costa Rica watched for opportunities to create fast break chances. The guests pushed for an equalizer, and two minutes into the overtime, Gau was launched on the right and it was easy for him to nutmeg goalkeeper Esteban Alvaro and secure a 2-2 draw with his second goal.
Costa Rica will face one of the soccer giants from South America, Argentina, in another friendly match at home, in the new National Stadium, on Tuesday March 29 at 8pm.