TheCostaRicaNews.com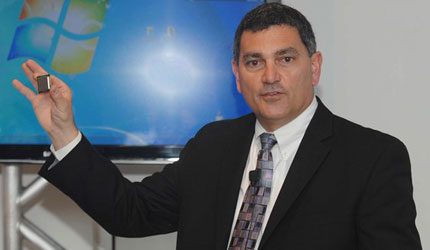 Have you ever noticed that your computer takes too much time generating and deploying the movie that combines the photos from your last vacation to the tune of your favorite artist? This is due to the limited processing capability of the machine.
A group of experts from Intel, including some Costa Ricans, worked on the new design and actual production of a processor that performs these tasks faster: the second generation of the Intel Core family.
In March 14, Intel made the official launch of these new products for the "Northern Cone" from its plant in Costa Rica. The Northern Cone Intel covers all Central American countries plus Colombia, Ecuador and Venezuela.
The new architecture of the Intel Core family (which includes the processor i3, i5 and i7) offers several features that distinguish it from the earlier version, explained Francisco Ramírez, manager of New Products of Intel Costa Rica.
One such feature is the integration of a graphics chip in the processor. This influences the better performance of the machine to work with images and videos of high resolution, which is of great importance, for example, when you use video games.
"The chipset is responsible for processing the images. That part was out of the processor before, and now is within the processor. This change makes it much more powerful. It is four times more powerful by being integrated," said Ramirez.
"The processor is more powerful than the general system of a computer. If it needs to send messages to communicate with the chipset or the hard disk starts working at the speed of the entire computer – that makes it slower. When introducing the chipset in the processor, the graphics become very powerful," said the expert. The other important point is encryption using the processor. Encryption allows a "key" to close the access or modification of a file, send it via the Internet safely, and then open it in another machine.
So far, Ramirez said, these keys were computer programs (software), but for the first time, the new generation of Intel Core puts the key within the processor, the hardware.
One example of how this will benefit in everyday use, is the sale or rental of movies on the Internet because there will be less of a chance that the movies are copied in an illegal way.