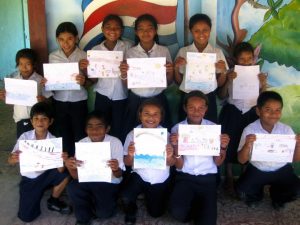 Gearing up for a new school year! As the public school children enjoy their summer vacation, the Surfing Nosara Foundation and public schools are working diligently together to improve infrastructure on school grounds. The children in Las Delicias will return to find a new covered walkway in their school, thanks to the donations from a group in Lovejoy ISD, Texas. The children in Nosara will return to find new garden boxes and a refinished entry thanks to a donation from Clyde Gardner, as well as a working bathroom attached to their lunchroom. The children in Esperanza will see the most changes in their school this February. Thanks to a generous anonymous donor, the new Kindergarten has been completely remodeled to include a sink and bathroom which opens into the classroom. A new handicapped bathroom and ramps are now under construction with a donation of skilled labor from Neo Builders, and with materials purchased from the G. Love Concert proceeds. It is a happy time for all!
January was a memorable month for the SNF; beyond all of the progress within the schools, we had the honor to meet 12
very special people from Lovejoy ISD Texas. On January 14, eight high-school Spanish students along with four parent chaperons embarked on a week-long 'home-stay' Spanish immersion voluntourism trip. The energetic group organized activities for the children in the Las Delicias community where they were staying in the mornings, and spent their afternoons volunteering with the Escuelita de Verano summer school program in Nosara. We cannot thank this group enough for all of the work they did! Leading up to their trip, they fundraised heavily in support of the Nosara public schools. All-in-all they have collected nearly $20,000 to help our children this year, not to mention all of the donated backpacks and supplies they brought down! Thank you Dina, Annie, Amanda, Oliver, Michael, Elaine, Molly, Simon, Grace, Wendy, and the Carols! We hope to see many of you again next year!
From Surfing Nosara