Henriette Jacobsen, TheCostaRicaNews.com
Around the world, there are accommodation options to suit the needs of everyone. From cheap hostels with shared bathrooms to luxury resorts where the staff cater to your every need. Other hotels put a great effort into making the visit an eye-popping experience for their guests.
If you have always dreamt of sleeping in your own wigwam it's possible at the Wigwam Motel, a pit-stop on Route 66, where 19 wigwams make up their own mini village. If you wish it would be Christmas every day, you should visit Christmas Chapel in Tokyo where the Christmas season never ends. In California at Treebones Resort you can sleep in a human-sized bird's nest designed by an artist who wants to give the visitors an "extreme eco-sleep".
There is an endless list of weird and wonderful hotels around the world, but what does Costa Rica offer to those who refuse to settle for a sterile looking lodge when going on vacation? Two hotels in Costa Rica have made it on Weird and Wonderful hotels' list of extraordinary hotels.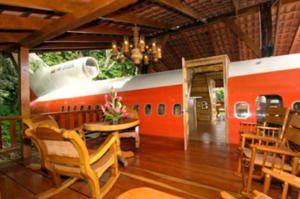 One of them is the hotel Costa Verde whose slogan is "Still more monkeys than people" as it's located next to the national park Manuel Antonio. That is however not the only thing that makes this hotel stand out. Guests can choose to spend the night in a refurbished 1965 Boeing 727 which is placed on a 50-foot pedestal to give the guests a good view of the Pacific and Manuel Antonio from the wing balconies.
"People actually don't choose us because of the airplane. They choose us because of the view they can get here," says Francisco Archibald from the Costa Verde hotel.

Visitors who want a good view to the jungles of Manuel Antonio, but do not necessarily want to stay in a tree top, can rent a room in one of the hotel's private bungalows. Archibald says the hotel gets many different reactions from the visitors that are both foreigners and Costa Ricans. In general though, people like the unconventional accommodation they get at Costa Verde.
Family-run hotel attracts photographers and bird-watchers
Further to the north, twelve minutes from San José in Santa Ana is Corteza Amarilla Art Lodge, another hotel that can be described as weird or wonderful depending on the eyes of the beholder. Corteza Amarilla Art Lodge is a family-run hotel decorated from floor to ceiling with paintings, sculptures and art pieces from demolished houses. On some of the walls inside the hotel it's difficult to eye a blank spot that isn't in some way decorated in an oriental, baroque, art nouveau or deco style.
"We put a lot of effort into finding the art. The art comes from around Costa Rica or it's made and donated by talented guests," says the owner Maria Cristina Salgado.
She explains that the art is carefully collected by her family and not a single piece is for sale. The family has had the hotel that includes 11 junior suites and two master suites plus a tropical garden for six years. From the beginning it was her father's idea to create something unique in Costa Rica by collecting art and architecture for the hotel. Salgado says the hotel now mostly attracts foreign tourists, photography groups and visitors interested in nature and bird-watching.
"People like it because there's nothing like this in Costa Rica. Other hotels can have more guests, but we have more art. We have something special," Salgado adds.
Both Salgado and Archibald state their hotels are not in any way weird. They are just wonderful.