You can find more than a hundred volcanoes in Costa Rica, but thankfully only five of these are active. Costa Rica is part of what is called the Pacific Fire Belt, which contains the largest number of volcanoes around the world. Volcanic activity has become a must-experience activity for tourists visiting the country.
But at certain points in history, volcanic activity has been a cause for worry. So, what should you know about volcanoes in Costa Rica? Well, besides being amazing natural adventures to have (we'll get into that first), we also include some pointers on what to do in case of a volcanic emergency.
Let's talk about the good things first.
One of the most attractive places to visit in Costa Rica is La Fortuna, which owes its fame to hot-springs, a natural product from the nearby volcanic activity. These waters are considered by many to have curative and cosmetic properties. All of them due to the water containing an ample variety of minerals and trace elements.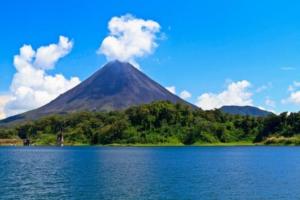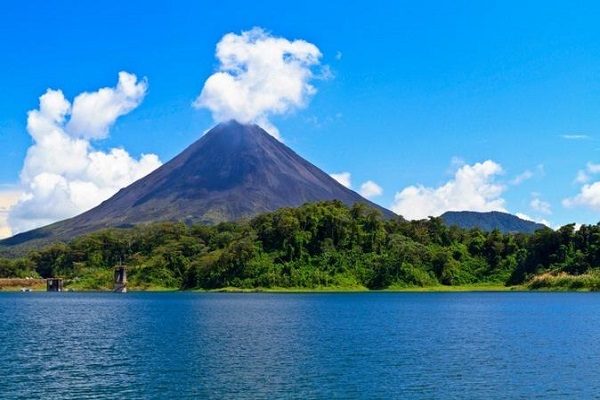 The Arenal Volcano is thought to have that volcano shape you remember when you were a child, a perfect cone. It looks simply omnipotent, towering among the scenery.   In the past it would put on an amazing show thanks to its constant lava eruptions, which were best enjoyed at night. So you could enjoy natural healthcare, and an amazing view on the same trip!   Also, the Arenal lagoon has been used to produce energy.  But that is not the best part, windsurfing and boat rides are also available at the lagoon! All of this surrounded by a beautiful rain forest in the Arenal Volcano National Park.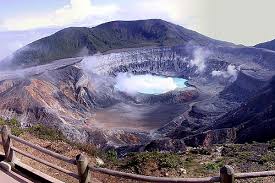 The Poás Volcano is the most accessible of the active volcanoes. The surrounding area of the Poás Volcano is going to make you feel like you are on a lunar landscape, thanks to the amount of sulfur in the soil. Two of its craters have become small lagoons. Of course you will most certainly be avoiding the one which is a boiling acid lagoon, as it is the active crater. The other one gives birth to the Sarapiqui River. The Poás Volcano is also protected by a national park with abundant vegetation.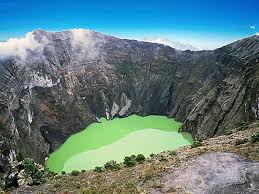 The Irazú and Turrialba Volcanoes are located in Cártago, and they are considered twins as they share the same base. They are both protected by being in National Parks, which include some awesome wild life and vegetation. The last time the Irazú Volcano erupted, the US President, John F. Kennedy, was in the country. The most incredible thing you can experience is that on a clear day, you can actually see both the Atlantic and the Pacific Oceans from the top of the Irazú Volcano, imagine that! Going up there you get to enjoy the amazing vegetation, lush pastures for grazing cattle, and beautiful exotic birds all along the way.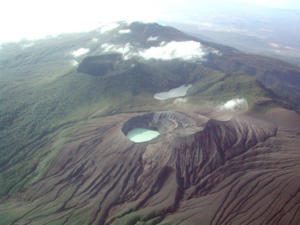 The volcano called El Rincón de la Vieja is found in Guanacaste, which is home to one of the most amazing protected zones in the country. It contains refreshing waterfalls like Oropendola Waterfall and La Victoria Waterfall. The geothermal activity is the cause of active fumaroles and relaxing hot-springs. Besides these wonders, there are incredible therapeutic mud-bath zones that you can enjoy after a long day exploring the area. You can also see amazing wildlife, thanks to fantastic hiking and horseback riding activities. You do not want to miss out on these amazing features.
On another note, the Turrialba Volcano covered the Costa Rican capital, San Jose, in ash a few months ago. It may seem scary to think about a situation like that happening while you are on vacation. Just remember that the people living there have seen their fair share of incidents like that, and most of them have not been too dangerous at all.
So, this is what these people usually do in situations like that.  Follow their example, and after all has passed, you can continue enjoying the wonders found in Costa Rica.
Turrialba Volcano – recent eruption

To protect themselves, they used masks and hand towels or handkerchiefs to cover their mouth and nose, and umbrellas to shield themselves from the falling ash.

If the volcanic activity grows stronger and you are outside, the ash might seem like fog. Visibility might be limited and you might feel disoriented, but do not run in fear.
Try to cover your head and shoulders with thick fabrics if you can, and go inside a safe place as soon as possible.
Indoors, close your windows and doors, and cover the open spaces around them with wet towels. Also, cover your mouth, nose, and eyes with wet tissues.
Cover your water tanks securely to avoid ash pollution.
We recommend not using your phone unless it is an emergency.
After the emergency has passed, try to get rid of the ash as much as you can.
Remember to wash your vegetables and fruits.
Stay in a safe place until the authorities announce it is safe again.
Volcanoes are certainly part of the amazing beauty you can see when you come to visit Costa Rica.  And sometimes, a little more than you were expecting.
Contact Us for more information on what to see and do when you visit Costa Rica.
WRITTEN BY:  Alberto Molero