Henriette Jacobsen, TheCostaRicaNews.com.
Increasing ties between Costa Rica and China are closely followed with much concern by U.S. diplomats, according to cables released by the whistle blowing website, WikiLeaks.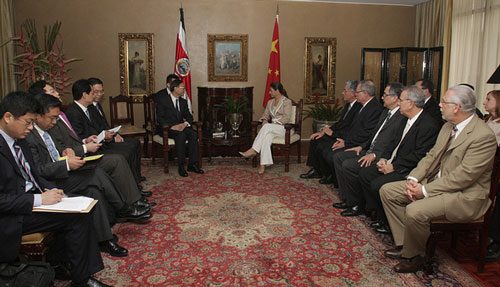 Over the past 10 years trade between Costa Rica and China has risen almost 2,000 percent to $1.5 billion in 2008. That year Costa Rica had a negative trade balance of 208 million with China, and the value of Chinese trade is now 15% of the value of U.S trade which makes China the second biggest trade partner. The government of Costa Rica sees China as a large source of donor aid and a sizeable potential market for Costa Rican goods. The amount and visibility of Chinese assistance in recent years dwarfs that of any other country. It's clear, according to U.S. diplomats in Costa Rica, that the government of Costa Rica is determined to broaden Costa Rican trade away from a dependence on the U.S.
Costa Rica views China as its gateway to Asia and an important ally for its United Nation Security Council aspirations. China is using Costa Rica as its gateway into Central America, according to a cable from 2007. After a devastating rainy season in 2007 China gave Costa Rica $20 million in disaster assistance to primarily reconstruct damaged housing. From a U.S. perspective, the Chinese generosity in Costa Rica is an important reason why the U.S. must remain engaged in Costa Rica through humanitarian and other assistance projects: "We can't match China's blank check for $20 million, but we can offer targeted, effective assistance and sustained involvement," a U.S. official wrote in February 2008.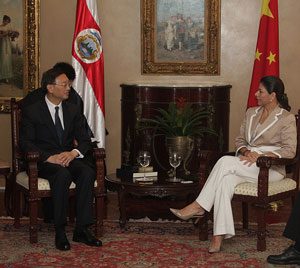 The majority of Costa Rican exports to China are high technology devices such as microprocessors, modular circuits and semiconductors, and leather garments. Demand for Costa Rican exports of ornamental plants, agro-industrial products, seafood and aqua-culture is also increasing. Imports from China include cotton textiles, radio-telephone reception devices, and video- and photo-recording and reproducing devices. China is also interested in helping to modernize Costa Rica's oil refinery on the Caribbean coast — a project estimated to cost up to $1 billion dollars.
One of the most visible signs of the tight bond between Costa Rica and China is the 35,000-seat stadium, home of Costa Rica's national soccer team, which China has built and will open next month. China has also donated 200 police patrol cars — Taiwan had previously donated equipment, including cars and motorcycles to the Costa Rican police. However the U.S. officials describe the equipment from China as of questionable quality.
Shift in ties from Taipei to Beijing
According to a U.S. diplomatic cable from 2005, there had been no official government-to-government ties between Costa Rica and China until then, but that "due to the burgeoning Chinese economy and accelerating pace of development, trade between the two countries will grow and may result in closer ties." This prediction came true.
In 1959 Costa Rica officially established diplomatic relations with Taiwan. Costa Rica was one of only 26 countries to officially recognize the small island in East Asia. Therefore, Taiwan was actively involved in funding transportation and other development projects in Costa Rica. But then trade between Costa Rica and China became more than ten times as big as the trade with Taiwan. A new administration in Costa Rica took office in May 2006 and brought gradual changes to the relationship with China. On June 1 2007, Costa Rica recognized the People's Republic of China, and by doing so, made a consequent break in diplomatic relations with Taiwan. Taiwan abruptly stopped its extensive assistance program. Until Taiwan broke relations, it had provided millions in assistance to Costa Rican police, including equipment and vehicles that aided in catching illegal immigrants and drug traffickers. Three months after Costa Rica became the first Central American country to have diplomatic relations with China, the first Chinese embassy in Costa Rica opened in San Jose.
And the honeymoon continues
The strengthening of the ties, with trade as the main focus, continued with high speed during the summer and fall of 2007. A commercial forum between the two countries was established, Costa Rica sought to ease visa restrictions for Chinese business and travelers, Costa Rica's Minister of Foreign Commerce, Ruiz, participated in an investment and trade fair in China in September, and former president Oscar Arias visited China in October. The year after, in November, president Hu Jintao visited Costa Rica, and became the first Chinese President to set foot on Central American soil.
As Costa Rica and China continue to strengthen the bond, U.S. diplomats say that various sectors of Costa Rican society, including the business, community, and immigration officials, are wary of tighter ties with China. The most populous country in the world is seen as a threat to some Costa Rican industries. But according to a 2009 cable, even if the pace of Chinese aid and investment slows, the government of Costa Rica sees its relationship with China as an investment that will grow in value in the long term.