The word Folklore was coined, in the 17th century, by a man who used to give a word to everything that people transmitted. Thus, in essence, the term refers to the acquired knowledge of a specific people.
That is why, thanks to this understandable notion about Folklore, we can say that the word includes mixed cultural elements of the Indigenous, Spanish and African ethnicities, since colonial times until what Costa Rica is today.
During the patronal and popular festivities of Costa Rica, various cultural manifestations that go beyond music and dance are included.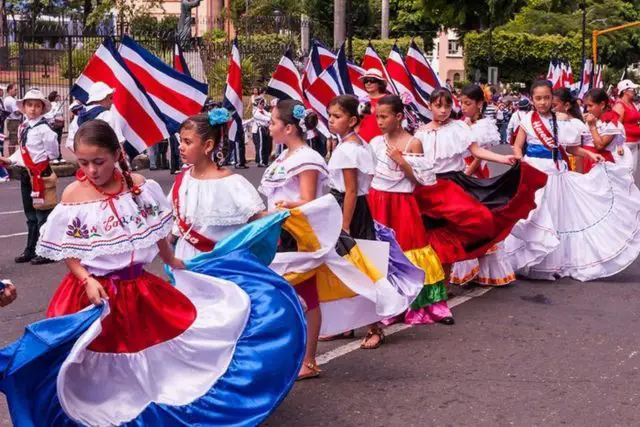 The narrative folklore, which is passed on orally, was constituted through legends, superstitions, and traditions. Let's take, for example, the following beliefs: Not to pass behind a ladder because it is bad luck, or the use of garlic to ward off bad spirits. They are myths that even spook the body!
In the same way, Costa Rica offers its entire community -and also those who want to know it- the choice to identify its culinary folklore. Within this context, maize (corn) is mentioned as that main food that the guest of any Costa Rican table should not miss. Likewise, you can find out which the most commonly used utensils are. Objects such as jícaras comales and nimbueras can be used to serve a spectacular soup, or even to drink a little water.
But beyond their meals, kitchen instruments, myths, legends, and even superstitions, the authenticity of Costa Rica is also highlighted by its unique dances, which are part of the national culture.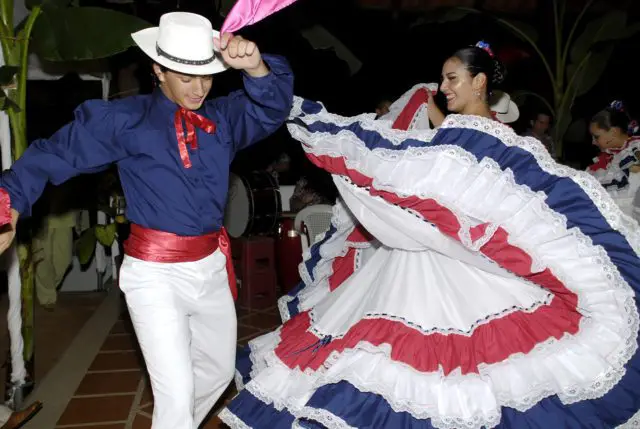 Within our traditional folk music that is accompanied by its harmonic form with a lot of rhythm and melody, we must know its true origin. And it happens that most of it came to our territory thanks to the profane and religious songs brought by the Spaniards.
Our Indians, mestizos, and Latinos opted for these forms and in some cases, they even change their lyrics or melodies. Although they used to keep the name of a song's rhythm, they often give it a different interpretation.
This way, we may say that, in Costa Rica, the following rhythms are performed:
"La Cajeta". It is known by men as the exact opportunity to find a good romance. Men who have no love commitment take advantage of the day in which this dance is celebrated, and fancy the woman who is available. Likewise, in the large haciendas, they make a dessert in honor of "La Cajeta", which takes a lot of work and is carried out sporadically in large quantities. Also, it is said that a girl frequented, with the excuse of buying from her the dessert, was also flirted by the man in charge.
"Diablo Chingo". More than a dance, it is a theatrical performance which is known as a village legend where a red bull frightens by night and the community confronts and traps it. Undoubtedly, this descriptive dance is inspired by the "Fiesta Brava" (Bullfighting), which is a cultural element of great tradition in the region introduced by the Spaniards.
"La Yegüita". It appears in December and is danced in honor of the Virgin of Guadalupe, with sounds of whistles and big drums.
Seasonal Love -by Héctor Zúñiga: It is dedicated to strengthening the love of many "tórtolos" through a passionate choreography accompanied by a lot of tenderness.
"The Tambito". Formerly known as "Zapateado", for its Spanish origin.
"Cute Ticas". Mario Chacón is recognized for paying tribute to Costa Rican women thanks to their beauty and charm.
And last but not least, among our most admired composers, we can mention:
Lorenzo Salazar Morales: Born on December 4th, 1931, faithful follower of the stories told by the grandparents of the time, a farmer in love with the harmonica.
Carmen Granado Soto: The multi-faceted lady "Alma Nacional" (National Soul), great announcer, poetess and excellent comedian, as well as the creator of characters inspired by a profound sense of nationalism.
Héctor Zúñiga Rovira: He has composed more than 70 songs. He was an excellent agronomist, with 2 children, characterized by his sonatas describing love, habit, joy, and sadness.