Lou Cheek, TheCostaRicaNews.com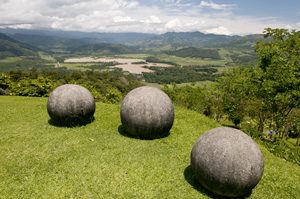 Nestled in the Diquis Delta near the town Palmar Sur is one of the most intriguing and unique finds throughout Costa Rica. Known to the Ticos who live in the area as Las Bolas, these stone spheres, some three hundred in number, have both puzzled and fascinated scholars and visitors alike.
First found by accident in the 1930s by workers employed by the United Fruit Company which sought to clear some of the lush jungle to make way for banana plantations, these balls of stone have also been found in other parts of the country including the Isla del Caño and even as far north as the Papagayo area.
Ranging in size from just a few centimeters to nearly seven feet in diameter, the largest of these spheres has been estimated to weigh in the range of 15 tons. Although no specific date for their creation has been determined, most of the archeologists and paleontologists who have studied these balls of stone agree that they were carved somewhere between 200 B.C. and 1500 A.D. Who carved them and for what purpose remains a mystery-no trace of the people or the culture that created these sculptures has yet been discovered.
The myths which surround the balls are, in and of themselves, the stuff of legends. To the workers who first uncovered them, rumors of hidden treasures within resulted in the rather unceremonious destruction of several balls by dynamite placed in drilled holes. Needless to say, the disappointment in finding nothing but stone inside the stone must have been as huge as the balls that were blown up.
Another myth/legend/theory is that the balls may have had some sort of astronomical significance –a symbolic representation of the planets or other heavenly bodies. Since most of the balls have been moved from their original locations, proving or disproving this theory is all but impossible. Could these round stone giants have played a part in a spiritual or ceremonial aspect of a culture long since lost to the proverbial mists of time? Perhaps as more is learned about those Ticos who have come before us and their civilizations, the answer will be revealed.
Until that time, however, you can visit a display of these round stone curiosities in the courtyard of the National Museum of Costa Rica in San José and ponder just who made them and what their purpose was. The museum is working to develop a Parque de Esferas (Park of Spheres) to promote interest in and encourage a study of the spheres with the ultimate goal of creating an interest in further studies and protection of such artifacts.
For the more adventurous, a road trip to the area around Palmar Sur will provide both the chance to see where these round carvings from antiquity were found and to explore a mysterious aspect of Costa Rica that is just now beginning to experience growth and opportunity.
Lastly, it should be remembered that, even in their antiquity and mystery, the Spheres remind us of one of the most important parts of life in this beautiful and enjoyable land of Costa Rica – Have a Ball! Pura Vida!