How One Man Took On Texas
When last we left-off it was 1893. We were at the Chicago World's Fair at the first San Antonio "Chilley" stand. Had we stood on line we would have been rewarded with a sampling of meat seasoned with a blend of hot chili peppers and other spices. It was a hit!
Jump ahead to 1967 and we're now in the town of Terlingua, Texas. The town resides 10 miles inland of the grand canyon of the Rio Grande with hundreds of thousands of acres preserved as wilderness in the Big Bend National Park. In 1967 it was quite isolated, being 80 miles from a real town, and it had no guest accommodations.
A bit of history: Terlingua is a corruption of the original name of Tres Lingos, named for the three languages spoken in the area in the 1800's; English, Spanish, and Comanche. At one time Terlingua was a major mining area for a brick-colored ore called cinnabar, from which mercury is extracted. A man from Cleveland, named Howard Perry, owned the mines and he moved the town closer to them. Along with 1280 acres, he pretty much owned Terlingua and controlled everything in it. He discouraged visitors to his territory so it would not have pleased him to know what was coming, albeit more than 100 years later.
In 1966 Frank Tolbert had written the first edition of his book * "A Bowl of Red," which revived interest in chili con
carne. The First World's Chili Cook Off in Terlingua was an attempt to promote the book. There were to be two cooks; Elizabeth Taylor's chef was the intended competitor against Wick Fowler of the Chili Appreciation Society Intl. Tom Tierney, the owner of a public relations firm, called Frank Tolbert to tell him about something he had read in "Holiday" magazine. H. Allen Smith of Mt. Kisco, N.Y. had written an article titled "Nobody Knows More About Chili Than I Do." In it Smith disparaged Texas and its chili. He also printed his own recipe which, along with onions and canned tomatoes, included kidney beans and sweet bell peppers. Chili heresy! The war was on. Smith was chosen to compete against Fowler. However, in an abusive and childish response, Smith declined the invitation. Fowler responded by saying "Smith has taken to his bed with the Buff Orpington syndrome": the Buff being a breed of chicken! So, Smith acquiesced and the date (unknown) was set as was the time: high noon.
On an autumn day, two pots of simmering chili scented the air while a band played and people milled about, assuaging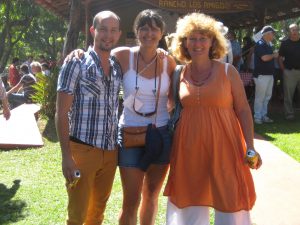 their hunger with the other cowboy foods on offer. There had not been much hope for a big turn-out considering the remote location. It was believed all the attendees could be transported on one big chartered plane from Dallas and another from L.A. To everyone's astonishment, people arrived by car, bus, jet, and large and small prop-planes. 209 chapters of the Chili Appreciation Society from across the U.S. would be represented in Turlingua that day.
Finally, the chili was ready. Three judges would decide the winner; David Witts, the mayor; Floyd Schneider, a brewery exec from San Antonio, and Hallie Stillwell, Justice of the Peace of Alpine, Texas, who was also happened to be Smith's cousin. The judges were blindfolded, a moot point since one chili had beans and one didn't. Though the pots were labeled 1 and 2, everyone knew which belonged to whom. Judge Stillwell was the first to taste, her spoon was dipped into the pot numbered 1, but…that's another story.
And, you will be able to test lots of Chili on February 12th at the 5th Annual Atenas Charity Chili Cookoff.
www.atenaschilicookoff.com And make your vote count.
* "A Bowl of Red" by Frank X. Tolbert revised edition 1972 Doubleday & Co.