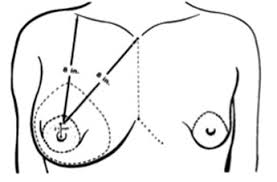 Many are the surgeries that women undergo today, some for health reasons, but many are the situations of nonconformity or depression that it brings as a consequence.
A third of women with cancer who choose the breast-conserving operation say they now have an asymmetry between their two breasts that greatly affects their quality of life, a new study indicates.
TIP: Get our latest content by joining our newsletter. Don't miss out on news that matter in Costa Rica. Click here.
Women whose affected breast looked noticeably different after surgery were twice as likely to fear a recurrence and present symptoms of depression compared to women whose breasts still looked similar, according to the study by researchers at the Comprehensive Cancer Center, from the University of Michigan.
Their studies indicate: "We found that one of the most important factors of quality of life and postoperative satisfaction was breast asymmetry or the aesthetic result experienced by women after the operation," said Dr. Jennifer Walijee, author of the study and resident of general surgery at the University of Michigan medical school.
Many women who are diagnosed with breast cancer can choose between a surgery that removes only the tumor and some adjacent tissues, or a mastectomy that removes the entire breast. Reconstructive surgery is possible after each of these types of surgery.
"It is important for women to think about all these points when deciding to have surgery performed and to realize that although surgery that conserves the breast may or may not cause less disfigurement than mastectomies, it is likely that they will experience some asymmetry after the operation, which could have some impact on their quality of life, "said Walijee.
Surgeons often discuss the types of cosmetic changes that mastectomy patients will see after surgery before the operation. The researchers believe that the same kind of counseling is not provided to women undergoing breast-conserving surgery, thus creating false expectations about the appearance of their breasts after the operation.
The Doctor Should Speak To The Patient
Surgeons need to have a frank and honest conversation with their patients so that they understand their expectations before the operation and can be better prepared to address their recovery needs after surgery.
Breast Asymmetry Is Normal In Women
Perfect asymmetry does not exist in human proportions. If we were to take a meat photo, take the left half and reproduce it exactly on the right side, the result would be a new face, distorted and quite different from the real one.

The same goes for the breasts. As Moisés Martin Anaya, a member of the Spanish Society for Passive Reconstructive and Aesthetic Surgery (Secure), explains, "almost all women have breast asymmetry, which means that one breast is different from the other, not only because it has different sizes but also because of the shape of the breast or nipple, or because they are located at different heights ".
Correcting the differences between one breast and another permanently would require the use of the scalpel since the breasts are a part of the anatomy in which infiltrations of products used in aesthetic medicine are not advisable.
"The objective is to achieve symmetry as natural as possible, that is, apparent, since, in reality, the perfect symmetry does not exist in the human body," he concludes.
We can deduce then that there is an important element which women must keep in mind and it is above all essential, "take care of health and always stay healthy." It is a matter of evaluating what is more important, the symmetry of the breasts or enjoying good health.