Pozo Verde, the jewel of the Sacred Mountain, is one of the best tourist destinations in the northern region of the country. If you want to go there, hed to Sucre, start going up the community of "El Congo" or "San José de la Montaña", until you reach the entrance to "La Casona".
Although the trek begins before the entrance gate of the Juan Castro Blanco Park. Following the path in the middle of the forest, then passing a small wooden bridge and from there continue on the left using a nature trail that is quite wide and easy to follow.
The total walk is about 3 km without many slopes inside the cloud forest, to then pass between mystical paddocks with stones full of moss and small springs of crystalline water. Also, it is usual to bump into calves or cows on the side of the road.
Then the trail becomes a bit more humid until you reach the first sign that says you are heading in the right direction. From that point, there is only a small descent that should be lowered with caution and after an intersection to the left, and when you least expect it, a small emerald green lagoon opens, the famous "Pozo Verde".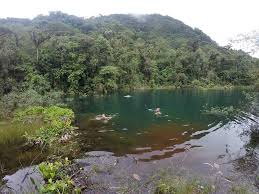 The greenish waters are stored in what was a volcanic crater that is located 1,850 meters above sea level, which, added to its natural beauty, from here it is possible to observe a variety of birds, insects, mosses and especially a silence where prevails the sound of the wind that passes with clouds moistening the branches of the trees.
Keep in mind that if you go to Pozo Verde, use comfortable sports-style clothes, and tennis shoes, drinking water, and if you bring snacks take along a bag to take your trash back. Also, returning from the hike, don't forget to taste the delicious local cuisine available in the nearby town.