The Costa Rica News (TCRN) – Costa Rica is dream paradise of dense jungles, misty mountains, and just over 900 miles of coastline between the Caribbean and Pacific coasts. Home to almost 5% of the world's biodiversity, this small tropical Central American country is just 9 degrees above the equator which means warms weather all year round with water temperatures in the mid 80's too low 90's.
For surfers and beachcombers this small country seems to have endless white, gold, and black sand beaches with plenty of rocky points, river mouths, reefs, and islands creating an overabundance of surf hotspots on both the Pacific Ocean and the Caribbean Sea.
TIP: Get updates on upcoming Costa Rican Retreats & Events by joining our newsletter. Don't miss out on what's happening around you! Click here.
Expat's, adventure travelers and endless-summer hunters discovered and started to migrate to Costa Rica's beaches in the late 80's and 90's and now the "Jewel of Central America" has become a haven for surfers from across the planet seeking the ultimate surf experience.
Costa Rican's, or Tico's as they call themselves, burst on the international surf competition scene in recent years as well as the National Surf Circuit and many of them now run their own Costa Rica surf camps providing surf experiences to the tourists that flock here all year.
Costa Rica's has a unique blend of geography and wind that has created prime conditions to satisfy surfers from the noob to the super star. Because of these unique conditions, International competitions in Costa Rica are becoming more and more popular. Costa Rica hosted the 2009 World Surf Championships as well as the annual Rabbit Kekai Longboards Classic and the annual Women's World Longboard Championships held on the Pacific Coast at Boca de Barranca which is said to be on one of the longest breaks in the world; this competition brings 300+ surfers from around the globe.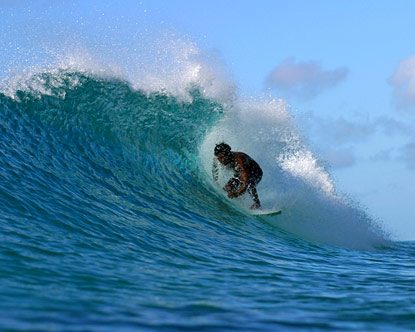 The Pacific coast has over 40 mapped surf beaches. The beaches in northern Guanacaste are said to be a playground for experienced surfers, if this is you, try: Roca Bruja (Witch's Rock), Potrero Grande, Playa Naranjo and Playa Negro to catch some strong, excellent waves. Further south, but still in the Guanacaste region, Mal Pais, Santa Teresa, Playa Hermosa, Manzanillo and Nosara all have great consistent breaks. Further south in the Central Pacific province of Puntarenas is where you will find the largest collection of surf hotspots including Jaco, Playa Hermosa and of course Dominical.
"In Costa Rica there is a perfect beach for everyone. If you are new to surfing or just new to Costa Rica, it's best to hook up with an expert from a surf school to get you started or to plan your perfect surf trip," says Dylan Park from Sunset Surf Dominical who runs a very popular Costa Rica surf camp in Dominical, a small town on Costa Rica's Central Pacific coast and a magnet for surfers at every skill level.
No matter if you are a soul-searcher looking for the ultimate wave, a professional surfer or a just want to learn to surf on your Costa Rica vacation, you will have the experience of a lifetime on Costa Rica's thrilling beaches – Pura Vida!
The Costa Rica News (TCRN)
San José Costa Rica