Although we could write a book about surfing in Costa Rica and why it has become one of the world's top surf destinations, we will assume that if you are looking into traveling here, you have already read that chapter… you know:
warm water
affordable prices
easy access to breaks
over 700 miles of coastline, both Pacific and Caribbean oceans (and thousands of breaks)
friendly people
international surfing tournaments
great surf camps
not to mention active volcanoes, white water rafting, monkeys, canopy tours, snorkeling, mountain biking, windsurfing, sailing, eco-minded culture, great food, the list goes on and on.
Let's face it… if you're going international, there are many places to surf. But Costa Rica has the right combination of travel perks…
TIP: Get updates on upcoming Costa Rican Retreats & Events by joining our newsletter. Don't miss out on what's happening around you! Click here.
The Coasts: When and Where
The Northern Pacific Coast is generally the most consistent destination from December – April. During this season, strong offshore winds combine with ideal swell directions to put breaks like Witches Rock, Playa Negra and Playa Grande in perfect form. The Central and Southern Pacific Coasts are generally best between May – November as the south swell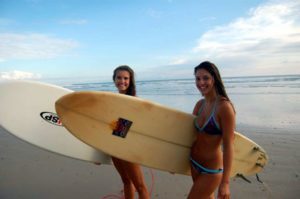 season creeps in while the Caribbean Coast tends to pick up the best conditions from November – March. These are certainly generalizations which are by no means, guaranteed. However, using these characterizations is the best way to plan your vacation.
The most efficient way to take advantage of surfing in Costa Rica is to pick one or two towns to use as your home base and use your rental car by day to explore the nearby breaks. As most breaks are located within less than an hour drive from your home base (and over half are located within 10 minutes), this will allow you more time in the water and less time on the road.
Best Time of Year for Costa Rica Surfing
THE SEASONS
Costa Rica does not really know all 4 seasons. During the summer months (mid December to April is known as summer in Costa Rica), temperatures are extremely hot and the chance of rain is very unlikely. However, crowds during these months can get pretty fierce, especially over Christmas, New Year's and Easter Week. This is Costa Rica's high season and therefore, hotel and car rental prices will be higher during this time of year than the rest of the year. The best surfing from December to April can be found anywhere along the northern peninsula (Nicoya) or on the Caribbean.
THE RAINY SEASON
The rainy season technically starts in May and lasts until the end of November. However, during the months of May, June,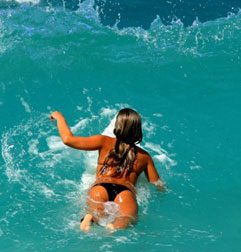 July & August, temperatures are still hot and the heavy rains have yet to fall. Common weather at this time is sunny skies with late afternoon or early morning rain showers. The real rains truly begin in September and last until the end of November. The biggest advantage of traveling during these months are lower prices (this is the low season) and much fewer crowds.
Costa Rica Breaks
THE CARIBBEAN
Manzanillo: A very fast beach break located 20 km from Puerto Viejo, Limon. Here you find rustic lodging and typical food. Located close to an unpaved road, and easy to get to
Puerto Viejo: A very thick and voluminous wave that comes from deep water onto a shallow reef, also called "salsa", for its juice power. This place gets very big and tubular (legitimate big wave). Salsa is approximately a 3-1/2 hour drive from San Jose and there is a restaurant and accommodation close to the point.
Black Beach, Cahuita: An excellent beach break, not well known and therefore not heavily visited. Nevertheless, there are waves all year round.
Westfalia: A stretch of beach breaks extending south from limon to Cahuita, offering lefts and rights that tend to close out where the swell gets too big.
Playa Bonita: A point/reef break known for its very thick, powerful and dangerous left. Located 5 km north of limon (downtown).
Portete: A small bay located north of playa Bonita. With a right working off the southerly point. Since it is close to limon, you will find easy access.
Isla Uvita: An island off the coast of Limon. Here you will find a good left. Isla Uvita is about a 20 minutes boat ride from Limon with passage available at certain times of the year.
NORTH PACIFIC COAST
The North Caribbean Coast Good beach break waves accessible via Tortuguero channels or by private plane. You can rent a boat to take you through the channels near Puerto Moin, 15 km north of playa Bonita.
Potrero Grande: A right point break, with very fast and hollow waves. Located 270 kms from San Jose with no road access. You must go to playas del coco or playa Ocotal and proceed from there by rented boat.
Playa Naranjo (Witch's rock): one of the best breaks in the country, with very strong off-shore winds from December to march. This wilderness point is located in the national park of Santa Rosa. You must go totally prepared for camping since there are no facilities. A good 4wd is a must, and don½t forget you mosquito net.
Playa Grande Beach: break, located about 20 minutes north of Tamarindo. Accessible by road.
Playa Tamarindo: Here you will find two mains points : a) Pico Pequeño a rocky point in front of the hotel Tamarindo, and b) el estero, an excellent river mouth break.
Langosta: A right and left point break that curls off the mouth of a a small river, located I km south of Tamarindo.
Avellanas: Good beach break, "guanacasteco" featuring very hollow rights and lefts. Located 10 km south of Tamarindo.
Playa Negra: A right point break with very fast waves, 350 kms from San Jose. Playa Negra is one of the best breaks in the country. Located 5 km south of playa Avellanas.
Nosara Beach: break, with lefts and rights. About 350 kms from San Jose. You go from San Jose to Nicoya and from there to Nosara. It takes approx. 5 hours to get there.
Playa Coyote, Manzanillo, and Mal Pais: Beach breaks, with very consistent lefts and rights and several points. A 4-wheel-drive vehicle is recommended. Now you can find a lot of places to stay.
CENTRAL PACIFIC COAST
Boca Barranca: A river mouth with a very long left, located 100 kms of San Jose with excellent access, paved road. Many places to stay. Dark water during rainy season scares off many. Boca Barranca and any other nearby beach are no contaminated. Boca Barranca offers some of the best waves pf the country.
Puerto Caldera: This spot has very very good left located 3 km south of Boca Barranca, Puntarenas.
Playa Tivives Featuring a variety of waves from beach breaks (Tivives) to a rocky point (valor). Good quality rights and lefts.
Playa Escondida: Excellent point break that peaks up forming a very good left and a surfable right. Accessible by land I you are a member of the beach club there (fresh water shower on the beach for member and guests), or by taxi boat to the cove to the south. You can rent a boat from playa Jaco or playa Herradura.
Playa Jaco: Can be good beach break when the surf is not too big. Tends to close out when it gets over 5 feet. Playa Jaco is approximately 2 hours from San Jose( 140 km), and the waves are not always dependable. One of its principal attraction has been surfing, this because of its location on the central pacific and it being so close to great quantity of places, specially playa Hermosa, playa Escondida, and Boca Barranca, Puntarenas. Jaco is a growing center of tourism enjoyment, with hotels, cabins and camp grounds.
Roca Loca: Located 1.5 km south of playa Jaco. A rocky point with rights that break over submerged rocks. To get the point, you will have to climb a small hill.
Playa Hermosa: Very strong beach break. This long stretch of break peaks working any given day, but the preferred sand bar is located in front of a large tree known as the Almendro. The waves conditions are generally best when the tide is rising. HOME OF LOMA DEL MAR SURF CAMP AND THE ROVERCAM SURF REPORT!
Esterillos Este, Esterillos Oeste, Bejuco, Boca Damas: Beach breaks, good wave forms, the points located very close to playa Hermosa, making easy access and many nearby accommodations. The wave conditions are very similar to those of playa Hermosa.
SOUTH PACIFIC COAST
Quepos: This small left `point is found at the river mouth in the city of Quepos, easy access with many restaurants and accommodations.
Playita – Manuel Antonio: Beach break, lefts and rights with good shape. This coastal area needs larger swell for the surf to show.
Playa El Rey: Rights and lefts beach break peaks. Best access to get there is taking the road to playa Dominical, 25 minutes from Quepos, in Roncador go right 11 kms and you will be there.
Playa Dominical: Good, strong beach break with lefts and rights. Beautiful landscapes and very tropical.
Drake's Bay and area: Accessible only by boat. This remote break offers long, powerful waves when the swell is running. Boca del Rio Sierpe, is another place with exciting potential for the same kind of waves . Corcovado national park is an adjacent kingdom of lush, tropical wilderness, approximately 1-1/2 hours by boat.
Matapalo: Excellent right points located in front of Pavones, you can get there by road from Pavones or by car from Golfito. Perfect waves.
Pavones Excellent left point, considered one of the longest in the world. Good shape and very fast. It is located 400 kms from San Jose (8 hours by car). Bring camping gear if you wish to hang there. Out on the peninsula across Pavones, a half-hour boat ride away, there is a series of right points (Matapalo) the equivalent of Pavones world class lefts.