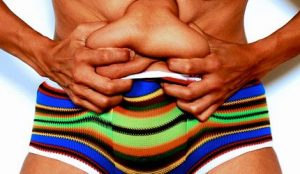 Laura Leff, TheCostaRicaNews.com
I suppose that most of us living in lush, warm Costa Rica are able to live with less stress on a daily basis. Living with less stress just might have been a driving factor for you to make this tropical beauty your home or favorite vacation spot. However, life can always throw us a curve ball that forces us into a stress frenzy. Do you ever wonder what's happening biologically while you are under all that stress? Maybe you're wondering why you can't get rid of that belly fat no matter how much you watch your diet or exercise. Let me enlighten you!
During times of stress, the body goes through a natural series of events. When you feel stressed, the hypothalamus in the brain signals to the pituitary gland that it needs to produce the hormone, adrenocorticotropic (ACTH).
Next, the adrenal gland senses the ACTH in the blood and generates stress hormones, one being Cortisol. Cortisol is used to release fatty acids and glucose that are stored in the muscles, for extra energy.
However, once the stress passes, the Cortisol levels are still high unless you exerted more energy than usual. High Cortisol levels cause an increase in appetite in order to replenish the glucose and fatty acids that were taken out of storage in the first place.
The intake of sugary foods and carbohydrates actually cause more Cortisol to be produced and the additional calories are stored away as fat in the abdominal area. When Cortisol comes in contact with fat cells, it stimulates enzymes to store more fat.
If stress continues, this cycle of events could be on going, causing added weight gain. So, take a load off! Take a deep breath. Practice yoga, breathing techniques, massage, acupuncture, imagery, reiki or whatever you like to do to de-stress. Choose to eat all the beautiful produce Costa Rica has to offer and watch that belly fat melt off!