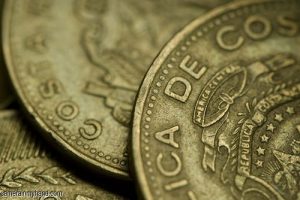 If the Central Bank of Costa Rica (BCCR) chooses to migrate towards a managed float, one of the first effects would be the appreciation of the colon.
Economist Fernando Estrada, said that instead of depreciating the colon, it most likely appreciate, impacting an industry like export or tourism. "Under current conditions we would see a gradual appreciation of the currency beyond 500 colones per dollar," he explained.
According to Estrada, capital flows we are receiving from foreign direct investment, speculative capital and even the colonization of domestic savings indicate that passing the managed float model the colon will be appreciated.
The economist said it is risky to predict a level as it depends how willing is the Central Bank to manage the float.
Gina Ampiée economist said that if the Central Bank of Costa Rica passes a managed float model should not announce it because that could give early expectations that would impact the exchange rate. Specialist for the monetary authority has maintained the exchange rate band model to avoid impact the exporting sectors, but should it migrate towards floating there is no guarantee of a depreciation of the colon, however it is predicted the exchange rate would be lower than of 500.
"The export sector would be affected, while importers of raw materials to produce probably have an advantage, but that advantage is not reflected in competitiveness," explained Ampiée.
Moving to that model, according specialists, you first have to wait until the market begins to be more active in alternative mechanisms such as hedging. Specialists also agree that those most affected would be exporters and tourism.
The Central Bank of Costa Rica approach perhaps is possibly because the they almost reached the limit of 1.5 billion dollars that they had to buy in reserves during 2012 and 2013.
There are several scenarios that the monetary authority must take: one is to reduce interest rates, however, its effect will be diminished significantly by the behavior of government finances, coupled with the interest of the Central Bank to meet the inflation target.
The Costa Rica News (TCRN)
San Costa Rica