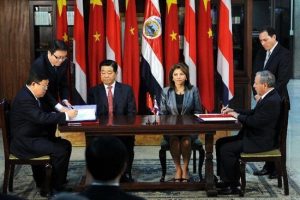 The Costa Rica News (TCRN) – The Minister of Foreign Trade of Costa Rica, Anabel Gonzalez, said the project Special Economic Zone (EEZ) that China and Costa Rica are implementing in the Costa Rica, could be underway "in under a year."
This was stated by Gonzalez in an interview with EFE in Beijing, after inaugurating the Forum 'Foreign investment and tourism opportunities in Costa Rica'.
TIP: Get our latest content by joining our newsletter. Don't miss out on news that matter in Costa Rica. Click here.
The minister is visiting in China to promote direct foreign investment in Costa Rica, as well as boost tourism and find new ways of cooperation with China, a country with which trade has already reached 6.2 billion dollars, which has more than doubled in the last six years, said Gonzalez.
One of the keys to the ministerial visit was the proposed special economic zone of China in Costa Rica. Negotiations started over a year ago and according to Gonzalez, there has been progress.
"It is a very detailed project and so we take the time to establish the conditions to ensure its success," said Gonzalez, who said that soon there will be a visit to Costa Rica geologists to analyze the possible locations of the EEZ.
Gonzalez stressed Beijing's interest in this project and assured that China is interested in establishing a pioneering project as EEZ-the first in Latin America in order to show the world "a new type of Chinese investment that can give their companies the market access in the Americas".
And attracting Chinese companies to Costa Rica would be very beneficial for the country, according to the minister.
Tourism also was prominent on the agenda of the Minister in China, which has been in the cities of Xiamen, Shenzhen, Hangzhou, Dalian and Beijing, before he went to India, their next stop in their Asian route.
In this sector, the minister said that Costa Rica is betting relax visa procedures for Chinese face to make it easier tourist arrivals.
The Costa Rica News (TCRN)
San Jose Costa Rica