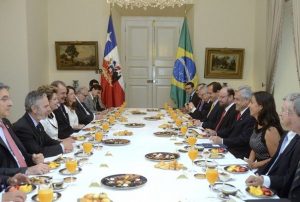 The Spanish Prime Minister, Mariano Rajoy, and the president of Costa Rica, Laura Chinchilla, held a meeting this past week in Santiago de Chile in which they expressed their desire to expand the business relationship between the two countries.
Both considered relations optimal, according to Spanish sources, but still have enormous potential.
In that sense, Chinchilla thanked Spain for its development cooperation to Costa Rica in the past few years, and expressed hope that relations are extended to other areas such as business, and have Spain share in Costa Rica's tremendous growth.
Rajoy and Chinchilla also reviewed the economic situation in the European Union and the future of the Pacific Alliance.
This integration organization, whose objectives include the projection Asian markets, is formed by Chile, Peru, Colombia and Mexico (the three fastest growing economies in the region), while Spain and Costa Rica have the status of observer countries.
Rajoy, at a previous meeting he had with the president of Colombia, Juan Manuel Santos, announced his intention to attend the Summit of Heads of State and Government of the alliance to be held next spring in the Colombian town of Cali.
Also, the president of Costa Rica today moved to the head of the Spanish government desire to enter soon in the OECD.
Chinchilla was also attending other high level meeting with different members of the European Union.
The Costa Rica News (TCRN)
San Jose Costa Rica