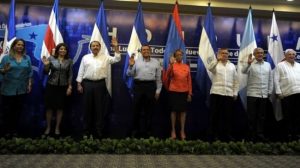 The Central American foreign ministers held a working meeting this past week in San Jose to study a proposal by Costa Rica to reform the Central American Integration System (SICA).
A Costa Rican Foreign Ministry spokesman said that will be a meeting behind closed doors to discuss the proposal submitted by Costa Rica in February during the presidential summit of SICA.
TIP: Get our latest content by joining our newsletter. Don't miss out on news that matter in Costa Rica. Click here.
Among the issues raised by Costa Rica, during the first half of the year is the rotating presidency of SICA, andthe modification of the eight major ministries of the body.
Among the ministries that would be renovated are the General Secretariats, Economic Integration, Social Integration Central American Commission on Environment and Development.
Other reforms also raised are the Central American Court of Justice and the Central American Bank for Economic Integration (CABEI), and the creation of a Ministry of Security and the installation of a Permanent Council.
Costa Rican Foreign Minister Enrique Castillo, said the goal is to give greater voice and representation of SICA countries in different ministries, and greater operational efficiencies.
Dominican Foreign Minister Carlos Morales Troncoso said in a statement that the meeting will set the SICA reform process in order to make the organization more efficient, participatory, and discuss conditions Dominican Republic's entry as a full member.
Full members of SICA are Costa Rica, El Salvador, Guatemala, Honduras, Nicaragua, Panama and Belize, while Dominican Republic is listed as an Associated State.
The Costa Rica News (TCRN)
San Jose Costa Rica