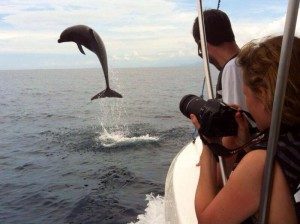 Dolphin and whale watching season is upon us in Costa Rica
The Costa Rica News (TCRN) – Patiently, expectantly, I gazed across deep indigo waters, ponderous swells rolling gently beneath the boat, our outboard motor silent. Suddenly eighty yards away an enormous dark sea creature broke through the surface, its long pectoral fins or flippers waving in the air, only to crash thunderously down and disappear into the ocean off Costa Rica's Pacific Coast. It was the thrill of a lifetime to see a humpback whale breach before my very eyes! And the show was far from over. We witnessed a half dozen such grand explosions of energy and exuberance on our recent whale and dolphin watching tour with Ballena Aventura, a full-service tour company located just down the road from Dominical near the Marino Ballena National Park.
'Tis the season for whale watching here in Costa Rica, although whales and other cetaceans can be spotted along Costa Rica's coastline for ten months of the year. But from late July through early November, humpback whales show up in large numbers as they migrate from as far away as Antarctica to hang out in the warm waters offshore from Drake Bay in Costa Rica's unspoiled Southern Zone. According to a report in Science Daily, humpbacks cover a distance of some 8300 kilometers or about 5157 miles to reach this tranquil spot in which to breed, calve and nurture their young. We even heard one whale "singing," a low moaning sound just audible over the water. It was our good fortune to spot a mom and her calf during our four-hour tour, led by a delightful and informative Tico named Cesar, who obviously loves his job. "Welcome to my office!" he exclaimed, sweeping his arm to encompass the stunning vistas surrounding us. His running narrative was full of fascinating facts about these enormous mammals which, as he pointed out, are more like cows than fish, including how they give birth, nurse their young (the mom shoots out a fat-rich milky substance) and teach their babies to go to the surface for their first breath of air.
Our tour also provided abundant views of some of the many species of dolphins that frolic in these waters, such as bottlenose, rough tooth and spotted dolphins. These playful acrobats seemed to take particular joy in giving us sightseers an entertaining performance, soaring out of the waters singly or in pairs. One energetic baby appeared to be leading its parents on a merry chase with high-spirited leaps above the surface with two adults following close behind.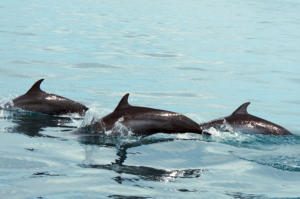 Park tour operators have established a cooperative arrangement for communicating with one another when a pod of dolphins or whales is spotted. They then adhere to rules designed to protect the animals and avoid frightening or injuring them. These include minimizing engine noise and speed to create no wake, avoiding sudden turns or in any way surprising the creatures, not pursuing or encircling the animals and minimizing the number of boats at any one time. So after we had enjoyed some time watching the dolphins, our vessel slowly moved off to allow another tour boat to come in closer.
This month is the perfect time to visit this picturesque part of Costa Rica and catch the 5th Annual Festival of Whales and Dolphins to be held on the weekends of September 6, 7 and 8th and the 13th, 14th and 15th in Bahia Ballena, Osa. Organized by the Association of Tour Operators in Marino Ballena National Park, the festival offers something for everyone, from families with children to young people and the general public. Planned activities include plenty of whale watching tours as well as sand sculpture competition, music concerts, a photography exhibition, environmental workshops and lots of good food. The festival provides a chance to enjoy the spectacular natural beauty of this area as well as an opportunity to view some of the vast array of species that make their home in this part of Costa Rica's waters. In addition to humpbacks, other visitors include pilot whale, Bryde's whale, false killer whales, three species of dolphins, several kinds of turtles and a variety of seabirds such as frigates, white ibis, pelicans and brown bobo birds.
This region was not always so pristine and protected. Back in the late 1960s the leading producer of aluminum, ALCOA, bought Hacienda Bahia, as the area was then known, to develop an export center for bauxite found in the local mountains and used to make aluminum. Fortunately, local residents, students and environmentalists mounted what some historians have called the largest organized protest in Costa Rica and stopped the project before it could damage this unspoiled and ecologically important locale.
Located just outside the town of Uvita, Marino Ballena National Park was created in 1989, providing a protected area of 110 land hectares (about 272 acres) and some 5375 sea hectares. The park covers a gigantic recreational area of sandy beaches, rocky beaches, offshore rocky islands and reefs, coral reefs and open ocean, critical habitat to marine species and coastal biological communities. One of the most unique aspects of the coastline is the Isthmus of Punta Uvita, formed by sand deposits on the crest of rocks, which link the tip of the isthmus to the coast. Incredibly, the resulting formation is shaped like a whale's tail, truly an amazing sight from the air, providing a scenic sheltered cove for swimming and wading.
The nearby community of Dominical, a charming little surf town, is an ideal place to stay for your visit and our favorite hotel is the beautiful eco-lodge Villas Rio Mar, situated along the banks of the picturesque Rio Baru. The Polynesian-style resort offers private bungalows set in the midst of glorious tropical gardens and only a short walk to the beach. The friendly staff will arrange your whale and dolphin watching tour or any of a number of other exciting outings, such as sport fishing, kayaking, bird watching, snorkeling, scuba diving, horseback rides or surfing lessons. Their restaurant not only offers an extensive and delicious breakfast buffet included in the room rate but also fine dining with international and local cuisine that compares well with five-star restaurants. Amenities include a large crystal-clear swimming pool, a jungle spa, tennis courts, walking paths throughout the gardens and a conference center.
With a twenty-year commitment to sustainable tourism, Villas Rio Mar has earned four of five "leaves" from the National Institute of Tourism in Costa Rica, as evidenced by the recycling bins throughout the facility plus informative notices regarding their eco-friendly practices, such as monthly cleaning of Dominical Beach. On our recent trip, I loved sitting out on our private terrace each morning, watching colorful Toucans flitting through the trees, listening to the sounds of the jungle all around and relaxing in tropical breezes wafting through the sheer curtains.
If you've never been dazzled by the sight of a breaching humpback whale, I encourage you to put it on your "bucket list" and make the scenic drive to Dominical during this whale season. You certainly will never regret it!
Kat Sunlove
The Costa Rica News (TCRN)
San Jose Costa Rica