By Laura Leff, TheCostaRicaNews.com.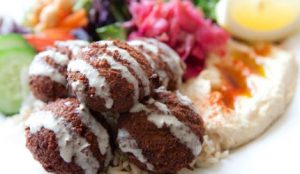 Have you ever dreamed of traveling to Lebanon? Well, there's a little taste of it right here in Costa Rica. It's not exactly the whole shebang, but you can definitely get caught up in the adventure while dining at Sash, a Lebanese restaurant that opened 8 years ago in Rohmoser. It's located 100 meters south of Plaza Mayor in western San Jose, and the sign is quite visible with its artistic decoration.
As I stepped foot into Sash, I was immediately whisked away to an exotic locale. The booths are enclosed by beautiful fabrics, transforming a dining event into a very intimate and enjoyable experience. The music is wonderful and just listening to it is reason enough to delight in the dinner and even hang out for a bit after eating.
While gazing in excitement at the menu, I sipped on the guanaba refresco (natural fruit beverage), which was superb in flavor. For my meal, I decided to try Kebby Saynie, which is a mixture of ground lamb and beef that is simmered in seven spices (my taste buds detected cumin, coriander, nutmeg and chili) and then sandwiched between a thin patty made of crushed pine nuts (pionones). It was accompanied by a small salad with a beautiful homemade dressing, hummus, tzatziki sauce and warm pita. I was extremely pleased with the dish, the medley of spices amused my senses and the lightly crisped pionones were the perfect texture combination with the ground meat.
I also tried the Trilogia Libanesa dish, which was another winner. It's a combination of grilled chicken and steak served with juicy, grilled vegetables (zucchini, corn, onion and peppers), hummus and warm pita.
There are plenty more dishes to sample, like the Warak Arich, which are grape leaves stuffed with ground meat, rice and spices-that's next on my list to try! If you're not into meat, don't fret, there's a wealth of vegetarian options. To name a few: baba ghanoj, lentil soup, sash de oregano y queso (Lebanese bread served with cheese and herbs) and falafel.
Sash isn't only open for dining. On Friday and Saturday evenings (starting around 8pm), head upstairs for some live belly dancing and exotic cocktails. You can hang out with some friends in your own private booth encompassed by tastefully done lighting that gets you in the mood for some great fun! Considering the ambience, food and experience that you get from Sash, the prices are quite reasonable. The majority of the dishes are in the range of $12 (USD).
Next time you are in the mood for something exotic, delicious and fun, choose Sash, you wont be disappointed. Buen Provecho!!