One of the ways that my husband Layne and I save money living as retirees in Costa Rica is by not owning an automobile. Cars are expensive here — costly to buy or import and costly to maintain. By avoiding that expense, we save thousands of dollars a year. When we do want the freedom to drive somewhere on our own, rental cars are readily available and reasonably priced. Our car-owning friends talk of expensive repairs, pricey insurance, annual registration, which usually requires some corrective repair work to pass, and the ongoing costs of gasoline, tires and the rest, all outlays that we are happy to avoid. Not only that, but they also occasionally express concern that by driving rather than walking or taking the bus, they are somewhat isolated and miss opportunities for meeting and making friends with Ticos.
With the exception of a few cities like Chicago or Portland, Oregon, where efficient rapid transit is available, doing without a car in the United States is just not feasible. But here in Costa Rica, the bus system — assisted by ubiquitous and inexpensive taxis — makes owning a vehicle something of a luxury and certainly not a necessity. The buses run frequently and on a pretty reliable schedule; only the short-run local buses between small towns are limited in the frequency of trips. "Directos," the express buses, make few stops while the "collectivos," or locals, stop for anyone who waves them down.
TIP: Get our latest content by joining our newsletter. Don't miss out on news that matter in Costa Rica. Click here.
For Layne and me, our bus system education has been gained through trial and error, accident and blowout and especially the kindness of strangers. On our initial effort to go from San Rafael de Heredia, where we were then living,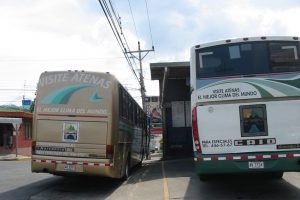 into San Jose, we encountered the first of many helpful Ticos. At the bus stop, in my elementary Spanish, I asked the driver if he went to San Jose. His answer was No. As I tried figure out another path to communication, a smiling Tica stuck her head out the window and said in English that this bus would get us partway to San Jose and that she would show us where to change buses. Relieved and grateful, we got onboard, paying 300 colones or about 75 cents for the two of us.
Our rescuer's name was Candy and she explained that the San Jose bus from San Rafael was a collectivo and would take forever to get into the city. What we wanted, she said, was an amarillo or yellow bus which would be the directo. After a short trip we arrived in Heredia and Candy guided us along, pointing out where we would catch a bus for our return trip. Several blocks further we came to a cross street lined with buses, one of which, Candy said, was her bus, but instead of stopping there, she continued with us another block to the San Jose parada or bus stop. As we boarded the yellow vehicle, Candy informed the driver in Spanish of our destination and bid us farewell, only then heading back up the street to her own bus. That was our introduction to the helpfulness of Ticos and the subtle complications of the bus system.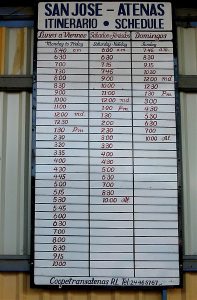 Many are the lessons we have learned through trial and error. One example was last year when we thought we had boarded the San Jose bus from Atenas, only to discover we were heading into Alajuela. Since I had a dental appointment and the shuttle was scheduled to pick us up, Layne and I looked at each other in dismay, thinking we had boarded the wrong bus and would be late. But as we learned from another obliging Tico passenger, the 11:00 a.m. San Jose bus makes a swing through Alajuela but would proceed on into the city. Live and learn! Fortunately, we made it in time for our shuttle with a few minutes to spare.
Of course, a little Spanish goes a long way in avoiding troublesome mistakes. By being able to read the signs in bus windows indicating Santa Ana by the old road (calle vieja) or the new road (autopista y Hospital CIMA), we were able to make our way to CIMA Hospital by bus from Atenas at a cost of about $4.00 total instead of a $30 taxi. My limited (but improving) Spanish has served us well on other journeys, such as going from Atenas to San Jose by bus, then getting a taxi to the Cartago bus stop on the other side of town, then into Cartago where friends picked us up and drove us over a spine-numbing potholed road to their tiny mountain village of La Estrella. On the return trip, we cruised down the mountain in a rickety bus around sharp curves over-looking precipitous slopes into Cartago where we asked friendly Ticos for directions to the San Jose bus stop a few blocks away.
Other successful trips to distant destinations have included from Atenas to San Jose and from there to the ferry crossing in Puntarenas; a bus ride into San Jose and on to Cartago where we caught another bus to Turrialba on the Caribbean slope; and, of course, numerous trips to Jaco beach and back to Atenas.
We have experienced a few hair-raising adventures on our bus travels, including the aforementioned accident and blowout among others, which I will detail for you in my next installment. Such escapades notwithstanding, however, the biggest challenge for newcomers is learning the schedules and routes. Unless you happen upon one of those helpful English-speaking Ticos or a knowledgeable Gringo, it can be difficult to figure out which bus runs when and where. There are a number of websites that offer timetables of the major routes to and from San Jose or Alajuela, such as http://costa-rica-guide.com/CostaRicaBusSchedule.pdf or http://www.thebusschedule.com/cr/index.php. And http://www.anywherecostarica.com/transportation/bus-schedules-public offers a list of locations and the connections to and from them. For a good map of the various San Jose terminals to outlying areas, check out http://www.costaricaweb.de/crweb/es/sanjoseweb/index6-sanjose-es.htm. Local itineraries are much more difficult to discern. The situation is complicated in that weekday schedules vary from the times on weekends and holidays are often on another program entirely. One technique we have used is to take a photograph of the posted bus schedule while we await departure from each terminal. These have served us well – if we remember to look at the photo before we leave home.
So far the best source we have found for detailed route information is a book called Costa Rica By Bus, available via download from their website http://www.CostaRicaByBus.com, or in a print version at the office of the Association of Residents of Costa Rica (ARCR) and possibly other tourist locales. Even with that resource, however, it's important to double-check for updates online as Layne and I recently found when we discovered that contrary to the information in our book, there was no 11:00 a.m. Atenas-to-San Jose bus. After a short wait at a local eatery, however, we caught the noon bus and off we went, smug in knowing how much money we continue to save with this economical transportation. Pura Vida!
P. Kat Sunlove